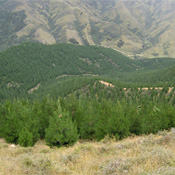 The government of New Zealand is hoping carbon markets can help tackle a number of environmental problems affecting the green islands' mountainous terrain. The Ecosystem Marketplace discovers how the Permanent Forest Sink Initiative is introducing "carbon farming" to rural land management. The steep green slopes of New Zealand's hilly terrain are a treasure to locals, a marvel to tourists and a feeding ground to millions of the country's famous sheep stocks. But two centuries of land use change have left many of these hillsides in a degraded state. Now, a new government program is looking to finance land restoration through the power of carbon markets. The Kyoto Protocol is an international agreement that sets binding national greenhouse gas emission limits and establishes an international carbon trading system. As a participant, the government of New Zealand is introducing the Permanent Forest Sink Initiative (PFSI) to issue Kyoto credits to individual landowners who maintain Kyoto-compliant forests for their carbon sequestration benefits. "The government identified that there is a lot of isolated, erosion-prone land in New Zealand that is not suitable for conventional forestry or agriculture but can be used to generate carbon sinks," says Peter Lough of the New Zealand Ministry of Agriculture and Forestry, the department implementing the scheme. "The PFSI is a mechanism to pass along economic benefits to landholders who are interested in carbon farming." Landowners who are allocated carbon credits under the PFSI are free to sell them to any party requiring carbon offsets. Rights and obligations, which include maintaining carbon stock associated with credits for a period of 99 years, will be defined in contracts with the government and registered against land titles. Following Kyoto rules, indigenous forests established on or after January 1, 1990 on land that was clear before then are eligible. Exotic forests must have been planted on or after October 17, 2002, the date the policy was first announced.
Carbon Farming Investment
The business community has been quick to see the opportunities presented by the PFSI. One company, Kyoto Forests of New Zealand (KFNZ), is working to aggregate carbon credits by managing the PFSI process on behalf of landowners. "Generally landowners are focused on grazing livestock or growing trees, and they want to focus on these core activities, not the nuances of carbon markets," says John Dentice, the manager of KFNZ. "KFNZ has the IP, structure and finances to turn small parcels of land into carbon farms, providing a third revenue stream to landowners." Dentice estimates that there may be 400,000 hectares of land suitable for the PFSI but only expects about half of that to be registered in the program. His goal is that 50,000 hectares will be represented by KFNZ. "Once the business model is working, we can ramp-up quickly," he says. That business model includes sharing revenue from credit sales with landowners and third-party investors. "People we talk to are interested because the downside risk of being involved is really small. We just need to incentivize landowners to maintain good land management," says Dentice. Good land management has been the focus of PFSI efforts undertaken by the Ngati Porou Whanui Forests Ltd. Ngati Porou is the second largest Maori tribe in New Zealand, and the company is currently operating about 10,000 hectares of forest plantations on their indigenous lands. To add to this, they will be reforesting up to 30,000 hectares of degraded land in a joint venture with the London-based firm Sustainable Forestry Management Limited under the PFSI. "The PFSI provides opportunities for large-scale, complimentary, commercial activities with corresponding social and environmental benefits that previously was not available" says Chris Karamea Insley, CEO of Ngati Porou Whanui Forests Ltd. "And it sits extremely well with us as Maori people, as we own our land and would never sell our land and can think inter-generationally." (For more on Ngati Porou see Maori farmers look to environmental markets in New Zealand) Ngati Porou intends to plant fast-growing hardwood species that will rapidly accumulate carbon credits and can be selectively harvested. The PFSI allows for logging on a continuous canopy basis in which only 20 percent of the tree cover can be harvested and must be allowed to regenerate before subsequent cuttings. This business model differs from KFNZ, which plans to apply active management techniques that encourage natural regeneration, a slower but less capital-intensive approach. Dentice believes this approach will also be attractive in the voluntary carbon market and intends to launch the Climate Conscious brand to sell carbon credits to voluntary buyers. KFNZ is also looking to sweeten the deal with honey, which can be produced in areas where native Manuka trees grow, combining carbon revenue with honey sales.
The Fine Print
Implementing legislation for the PFSI was passed in November 2006, but regulations outlining the scheme's details are currently in a public consultation process. One of the biggest remaining issues is what kind of credits will be devolved and when they will be delivered to landowners. The government is proposing to deliver Assigned Amount Units (AAUs), which are credits issued to countries based on their allotted emissions levels during the first Kyoto Protocol commitment period (2008-2012). An alternative is to issue Removal Units (RMUs), which are credits awarded to countries based on the volume of greenhouse gases removed through sink activities. RMUs can only be issued post-2012 when New Zealand's carbon accounts are finalized through the Kyoto registry, and this potentially limits when landowners can trade them and their value. "AAUs are expected to be the most valuable form of credits traded in Kyoto markets, mostly because they are bankable between commitment periods and could be devolved early in the commitment period," says Lough. "Right now we can't give an absolute guarantee on AAUs because Kyoto rules require that the government retains most of these credits in its own accounts, and the volume we are allowed to devolve may be allocated to several different initiatives. With that risk in mind, we know we need to provide some certainty to investors while protecting the government from being over-allocated."
Forestry Outside the PFSI
While prompting investment in certain areas, the PFSI was not designed to deal with carbon rights for the commercial forestry sector. Commercial plantation forestry boomed in the country in the 1990s, and an estimated 600,000 hectares of a total 1.8 million plantation hectares are on Kyoto-compliant land. The government does not have plans to devolve AAUs or RMUs to commercial plantation owners, and the continuous canopy rule precludes them from participating in the PFSI. "By nationalizing carbon from the plantation estate, the government essentially confiscated our property rights," says Peter Clark, CEO of forestry company PF Olsen and member of the Kyoto Forest Owners Association, representing owners of Kyoto-compliant commercial forests. "Other Annex 1 countries are not dealing with this problem because they have very few privately owned Kyoto-compliant plantation forests." With 12 percent of annual export earnings coming from the forestry sector, devolving Kyoto carbon credits and corresponding liabilities to Kyoto forest owners could have a significant impact. The government is still working through its policies related to these issues, and a recently released discussion paper by the Ministry of Agriculture and Forestry proposes granting Kyoto credits to Kyoto forests planted post-2007. Clark is cautious to endorse these and other government proposals, noting carbon policies have shifted many times and the first commitment period is quickly approaching. He says industry is working on presenting a unified response, but at this stage, it is unclear how it will be resolved. "In its current form the PFSI doesn't have the forestry industry particularly excited," says Clark. "We think if you're going to have a carbon policy, have a comprehensive carbon policy. The PFSI is trying to address other issues like water quality and soil stability, which are worthwhile, but result in a solution that's narrow in scope."
Positive Land Use Change
The PFSI may not be the answer everyone is looking for, but observers tend to agree it will achieve its primary objective of land use change. "It's land use change sweetened by carbon," says Dentice. His mind is now turning to the government regulations, which are to be issued in February and finalized by July 2007, and how they will influence the commercial viability of KFNZ's business plans. "The biggest issues for us are clarifications over land eligibility for native species that could be considered grasslands, rather than forests and how 'human-induced active management' will be defined," says Dentice. Administration costs are also a concern. For Insley, the PFSI appears to be all upside. "We have a great partner and a commercially viable proposition that makes sense," he says. "We're satisfied with the regulatory environment and our ongoing conversations with government, and this gives us confidence to pursue ventures in emerging environmental markets." Marisa Meizlish is the manager of advisory services at New Forests Pty Limited in Sydney, Australia and regularly contributes to the Ecosystem Marketplace. She can be reached at mmeizlish@nullnewforests.com.au. First published: February 28, 2007 Please see our Reprint Guidelines for details on republishing our articles.