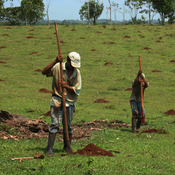 Following the landmark use of political risk insurance on a REDD+ project in Cambodia, project developers elsewhere have also tapped into the insurance – most recently on a bamboo reforestation project in Nicaragua. Despite these examples of early mover activity, awareness of political risk coverage and how it can help finance carbon offset projects is still very limited.
27 August 2013 | In 2011, a few years after US-based land-use carbon consultant Terra Global Capital (TGC) launched its Oddar Meanchey REDD Project in Cambodia, it asked the Overseas Private Investment Corporation  (OPIC)  to shield its investment from political risk.
More specifically, the project helps Buddhist monks and other community members reduce greenhouse gas emissions from deforestation and forest degradation (REDD), and it does so in a way that could serve as a template for community-based REDD projects around the world. But it's located in a country that most investors don't understand. So TGC asked OPIC, the US government's primary development finance agency, to provide protection against the risks of expropriation, war, and civil unrest – risks familiar not only to Cambodia, but to countries around the world. In the very first instance of political risk insurance for a forest carbon offset project, OPIC came through with $900,000 in political risk insurance – a service that the World Bank Group's Multilateral Investment Guarantee Agency (MIGA) also offers.
Between the two of them, OPIC and MIGA have so far insured several carbon offset projects around the world designed to promote sustainable forestry, wind farms, and solar energy, allowing them to move forward in some of the world's riskiest political and economic environments.
Nicaragua's bamboo kingdom
In 2012, MIGA provided its first political risk insurance to a carbon offset project on the Atlantic Coast of Nicaragua, where EcoPlanet Bamboo (EPB) has been developing a forest carbon offset project to support its work reforesting degraded pasture land with guadua aculeate, a native bamboo species. The project is just one piece of the company's growing efforts to provide timber manufacturing industries with a sustainable alternative fiber in order to reduce pressure on natural forests.
The production of palm oil is expanding and threatening forests in  Nicaragua's coastal region, not far from EcoPlanet Bamboo's sustainable bamboo plantations. For the land to be primed for palm oil, the forests are being burned, sometimes without removing the timber.
While EPB hopes to use carbon finance to meet debt repayments and support bamboo-processing activities and social programs in the area, MIGA's $27-million guarantee backs the company's investment in the purchase and conversion of degraded land into commercial bamboo plantations for the sale and export of bamboo fiber.