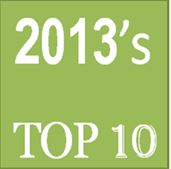 Over the past two weeks, we've recapped our coverage of all ecosystem markets from the past year. Now it's time for you to help us identify what you, our readers, believe were the most important stories in forest carbon and voluntary carbon – and what they mean for the coming year.
6 January 2014 | Throughout this week, readers can offer their input on the top stories of 2013. You can rank the Top Voluntary Carbon Stories of 2013 here and the Top Forest Carbon Stories of 2013 here.
The results will be published in our Forest Carbon News Brief on January 14 and in our V-Carbon News Brief on January 21. (If you're not already subscribed to these free resources, make a belated New Year's resolution to stay informed, and sign up here.)
And if you want to venture a prediction for the voluntary or forest carbon markets in 2014 (you can't be wrong…yet), email Allie at agoldstein@nullecosystemmarketplace.com with your quote.
Additional resources