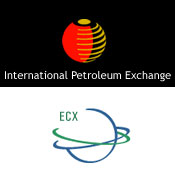 Established emissions trading markets such as the US market in sulfur dioxide tend to generate large futures markets. Today (April 22, 2005), Europe saw trading in the first exchange-based carbon futures market linked to the European Union's Emissions Trading Scheme (EU ETS). The Ecosystem Marketplace takes a look at what happened. Today (April 22, 2005), the Netherlands-based European Climate Exchange (ECX) and London's International Petroleum Exchange (IPE), announced results from the first day of trading in CO2 futures contracts linked to the EU ETS. They said the day saw trades of 108,000 tonnes of carbon in 108 lots, with prices ranging from €16.80 to €17.40 per tonne. The closing price for a December 2005 carbon contract was €16.85. The first trade took place between BP and E.ON UK plc at 0800hrs BST for 10 lots (equivalent to 10,000 tonnes of CO2) of December 2005 at a price of €17.05. The trade was cleared by Calyon Financial SNC (a subsidiary of Calyon Corporate and Investment Bank) and ABN AMRO Futures Limited. According to Emma Johansson, BP's lead emissions trader, "The Exchange increases liquidity through greater price transparency and this deal confirms our support for the development of the EU Emissions Trading Scheme." Meanwhile, Gareth Halstead, Lead Trader at E.ON UK plc., said: "The launch of futures contracts is a decisive step in the development of a liquid pan-European emissions market." The ECX CFI futures Contract, which is listed for electronic trading on the IPE, is the first exchange-traded CO2 futures contract for the European Union's Emissions Trading Scheme. ECX CFI futures allow users to lock-in prices for emissions allowances delivered at set dates in the future and are a useful alternative to over-the-counter forward contracts, allowing users to secure transparent prices and reduce counterparty risk. Trades are cleared through LCH.Clearnet Ltd. Peter Koster, Chief Executive of ECX commented: "This is an historic day for the carbon market in Europe. We have seen a brisk start to the futures market broadly in line with our expectations." Neil Eckert, Chairman of ECX, said: "This is a significant achievement for everyone involved at both ECX and IPE and marks an important step in advancing the EU Emissions Trading Scheme into a European commodities market.", Key elements of the ECX futures contracts (referred to as ECX Carbon Financial Instruments or ECX CFIs) include:
Contract size: 1,000 tonnes of carbon dioxide.
Price quotation: Euros and euro cents.
Contract fees: Per lot, per side execution fees are €2.00 for IPE members and €2.50 for non-IPE members
CFIs eligible for delivery: ETS CO2 emission allowances issued by specified EU Member States and other related instruments as specified by IPE rules.
Listed contracts, expiration cycle: Quarterly contracts (March-June-Sept-Dec) listed from December 2005 through March 2008; annual expirations listed for 2008 through 2012.
Delivery procedure: Delivery of eligible allowances to Member State registry accounts in accordance with the IPE rules.
Applicable regulatory authorities: ECX products are listed by and traded on the IPE which is recognised as an investment exchange by the UK Financial Services Authority.
According to Koster, his group and the IPE "have created a standardized futures contract on a highly regulated market, with low transaction costs, transparent prices, central counterparty services provided by LCH.Clearnet and ready access to the IPE's electronic marketplace. The specifications of our contracts have been established with the help of our industry and financial committees, who comprise most of the key emitters and potential traders and with whom we have been consulting over the past six months." An analysis by Reuters notes that the issue of fees and transaction costs is likely to be an important one. They say the fees being charged by the ECX and IPE are likely to undercut most other rival carbon bourses and brokers. They note that rivals such as Norway's Nord Pool and Germany's European Energy Exchange (EEX), charge anywhere from 2 to 5 euro cents per ton of CO2 traded, whereas the published prices for the ECX/IPE venture is 2 cents a ton for IPE members, and 2.5 cents a ton for non-members. Reuters also states that some ECX/IPE deals have been cut for as low as 1 euro cent a ton. However, this could all change as new carbon exchanges enter the market. Two such exchanges have been announced, one in France and one a joint venture of Spain's SENDECO2 together with Dutch firm New Values. For more on the new carbon futures, you can visit the web sites of ECX (www.europeanclimateexchange.com) or the IPE (www.theipe.com). Regular prices of futures from the ECX are also expected to be posted on the web site of the Chicago Climate Exchange (www.chicagoclimatex.com), of which he ECX is a wholly-owned subsidiary.