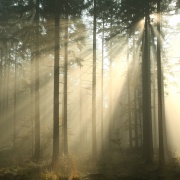 The California Air Resources Board issued its first forest carbon offsets to two projects, Willits Woods and the Farm Cove. Both projects were early adopters to the forest protocol and both use improved forest management techniques to sequester carbon. Companies that must reduce their emissions under California's cap-and-trade system may use offsets for up to 8% of their requirements.
18 November 2013 | The California Air Resources Board (ARB) took a major step forward in the development of its offset program by issuing the first forest carbon offsets eligible for compliance with the state's cap-and-trade market.
The offsets come from two improved forest management (IFM) projects: the Willits Woods project and the Farm Cove Improved Forest Management Project.
Willits Woods, developed by Coastal Ridges, covers about 19,000 acres of land in northern California. It became the first approved forestry project, with 1.2 million carbon offset credits now available to regulated California entities.
On the other side of the U.S., the ARB also approved Finite Carbon and the Downeast Lakes Land Trust's Farm Cove project based in Maine. Also covering about 19,000 acres, the project has verified 242,000 carbon offsets and has already contracted the offsets to two non-disclosed compliance buyers. Proceeds will contribute towards ongoing fundraising efforts to purchase the adjacent 22,000-acre West Grand Lake Community Forest Project. This Maine project marks the first forestry project approved outside of California (the ARB currently accepts forestry projects in the lower 48 states, but not in Alaska, Hawaii or U.S. territories).
Though varying in size, both projects share the common characteristic as "early adopters" – meaning that they developed under earlier draft versions of the forest protocol. As Linda Adams of the Climate Action Reserve reaffirmed, "It is tremendously gratifying to see that the early adopters of the Reserve's forest protocol are being recognized by having their credits accepted for the compliance market, just as had been assured under AB 32."
The forest offset protocol was adopted in 2011 by the ARB alongside three other offset types. These forestry offsets follow closely on the heels of offsets issued under the Ozone Depleting Substances protocol in late September. The forest protocol guarantees that credits are issued proportional to the metric tons of sequestered carbon in each project, while demanding that projects be managed for at least 100 years and plan for wildlife habitats and watershed benefits.
"As the largest uncapped sector under California's cap-and-trade program, agriculture and forestry have an important role to play in helping California meet its 2020 emissions reduction target," said Robert Parkhurst, agriculture greenhouse gas markets director at Environmental Defense Fund.
Regulated entities are limited to purchasing offsets for up to 8% of their compliance. Offsets are meant to be a cost-containment mechanism to keep the prices low, with current pricing reflecting this as offsets were only valued at $9/tCO2e compared to $12/tCO2e for carbon allowances in Wednesday trading.
To reach this point, both projects had to undergo dual verification: the first under the Early Action Offset Program and the second by a separate, ARB-accredited certifying party. The Farm Cove also has Forest Stewardship Council (FSC) certification, a status simply maintained during the conversion of the lands to an ARB-accredited area. Both projects then faced additional scrutiny by the team at ARB.
While the first two projects mark a milestone for forestry projects, the real impact of the Forest Offset Protocol will be seen in whether additional forest owners buy into the market. Finite Carbon's President Sean Carney has high hopes for this future, saying that the current "issuance and sale of forest offsets answers two important questions for landowners: 'yes, the compliance carbon market is real, and yes, so is the revenue." Finite Carbon will continue to be an active player in the market, as they plan to bring an additional ten projects online in upcoming months.
Additional ARB offset projects may be found here.
Kelley Hamrick is a Research Assistant in Ecosystem Marketplace's Carbon Program. She can be reached at KHamrick@
null

ecosystemarketplace.com.
Additional resources