Forest Trends' Ecosystem Marketplace (EM) invites organizations that were actively selling offsets in 2017 and/or 2018 via the voluntary carbon markets or the Colombia carbon tax to respond to its 15th annual 2019 carbon markets survey. Information collected in this survey will be used to analyze and share the initiative's uniquely-found insights about voluntary carbon markets' pricing and key market trends.
"One of the great things that the State of the Voluntary Carbon Markets report does is document the ups and downs of the voluntary market over time. And that's been very useful because it in many ways validates what we see on a daily basis."
– David Antonioli, CEO, Verra
How to respond?
The survey shouldn't take more than 15-30 minutes to respond. Click the link below to download the 2019 survey. Instructions for how to submit your response are available within the survey document.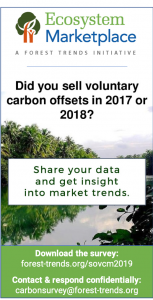 Note: if you're having any issues completing your response or would like to respond by speaking directly with a member of the EM team, click here.
About:
Launched as a web-based information platform in 2004, Ecosystem Marketplace (www.ecosystemmarketplace.com), an initiative of non-profit organization Forest Trends, publishes newsletters (sign up), breaking news, original feature articles and major reports about market-based approaches to conserving ecosystem services. In 2007, staff began collecting survey data to inform the first-ever "State of the Voluntary Carbon Markets 2007" report: 'Picking Up Steam'.
We are currently collecting data from 2017 and 2018, and will be presenting both sets of data into a single report. If this is your first time hearing of us, please see our 2017 State of the Voluntary Carbon Markets report here.
"We think that Ecosystem Marketplace's annual reports are useful, they always have been, as we continue to communicate about what's happening in the market, and where it's headed."
– Antoine Diemert, ICROA Programme Director, International Emissions Trading Association (IETA)
Confidentiality:
All responses will be kept confidential. We only share aggregated data, and only if we have data provided by at least 3 organizations.
Support Us:
We are currently seeking advisers and supporters for this work and the report. If you are interested, please reach out to EM's Director, Stephen Donofrio, and Senior Program Manager, Patrick Maguire.
Disclaimer:
Forest Trends' Ecosystem Marketplace reports are based upon information supplied by participants in a market survey. Forest Trends' Ecosystem Marketplace does not represent or warrant the accuracy, suitability, or content of the survey responses or the results of that survey as set out herein. It is the sole responsibility and obligation of the reader of the report to satisfy himself/herself/themself as to the accuracy, suitability, and content of the information contained herein. Forest Trends' Ecosystem Marketplace (including its respective affiliates, officers, directors, partners, and employees) makes no warranties and shall have no liability to the reader for any inaccuracy, representation, or misrepresentation set out herein. The reader further agrees to hold Forest Trends' Ecosystem Marketplace harmless from and against any claims, loss, or damage in connection with or arising out of any commercial decisions made on the basis of the information contained within. The reader of the report is strongly advised not to use the content of this report in isolation, but to take the information contained herein together with other market information and to formulate his/her/their own views, interpretations, and opinions thereon. The reader is strongly advised to seek appropriate legal and professional advice before entering into commercial transactions.
Thank you to our growing list of multi-year Strategic Partners, Supporters, and Collaborators!
As an initiative of non-profit Forest Trends, our work would not be possible without generous financial and in-kind support. We are seeking sponsors for our work, including tracking environmental markets, reporting on news, and future editions of this newsletter.
Click here to contact us
about sponsorship and advertising.