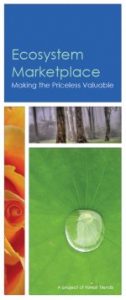 View Publication
Markets depend on transparent and reliable information to function. What is true for investors on Wall Street is equally true for environmental market players trading in carbon, water quality, and biodiversity.
Unfortunately, obtaining information for these markets can sometimes be exceedingly difficult. In many ways they resemble the Wall Street of the 1800s – with information closely guarded by those who profit from it – rather than the stock markets of today.
But markets grow and evolve, and they do so, in part, because of the transformative power of reliable and transparent information. This is the role of Ecosystem Marketplace.