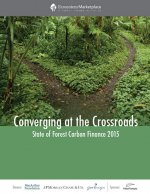 By Allie Goldstein, Evan Neyland
View Publication
If you've found your way to this report, you're well aware that the world is standing at a crossroads when it comes to forests and climate change. Over the last decade, companies, governments, and communities have worked tirelessly to create new financial mechanisms they hope will reverse global forest loss and to create working landscapes that conserve carbon. Though the challenges are vast – forests may always have to compete with palm oil plantations and parking lots – the numbers embedded in this report show that forest carbon finance is on the rise.
The year 2014 saw the most payments for forest carbon offsets ever. A record $129 million flowed through compliance markets such as California and Australia with several others – Korea's, China's, and South Africa's – to possibly include forest carbon in the near future. Voluntary demand for forest carbon offsets increased, too, and several developments – including the flurry of green supply chain commitments by major commodity producers and the fact that more than 400 major companies now have an internal price on carbon – indicate that the world of private sector actors potentially interested in forest carbon interventions is quickly expanding.
At the same time, non-market payments for emissions reductions have reached $1.1 billion since 2009, with another $1.2 billion in pledges in the works. The United Nations climate negotiations in Paris this December will influence the shape and scale of these types of results-based payments in the coming years and thus the ability of at least 57 developing countries to meet conditional emissions reductions targets that depend on international finance. The title of this year's report, Converging at the Crossroads, draws inspiration from the Robert Frost poem about two roads diverged that is so often cited in commencement speeches. And 2015 does mark a kind of graduation as finance to prepare countries and their institutions for avoided deforestation shifts towards payments for results.
At the same time, private and public sector financing streams are converging as both companies and governments ramp up payments for emissions reductions, some through market-based transactions and others through nonmarket agreements – hence the change in subtitle from the State of Forest Carbon Markets to the State of Forest Carbon Finance in this sixth installment in this report series.
The crossroads represents the divergence at the center of Frost's poem – a key decision point that flows on to many others that it's a point of no return. We hope that the confluences detailed in this report inspire actors in all sectors to learn from each other's experiences as they come to their own crossroads. We are, as always, grateful to the hundreds of practitioners from every corner of the world that disclosed 2014 market data, and the dozens of individuals that contributed their expert review to this research process.
Download the Report       Press Release (En)    Press Release (Sp)
SUPPLEMENTAL MATERIALS
Historical Market-Based Payments for Forest-Based Emissions Reductions: Transaction
Volumes and Values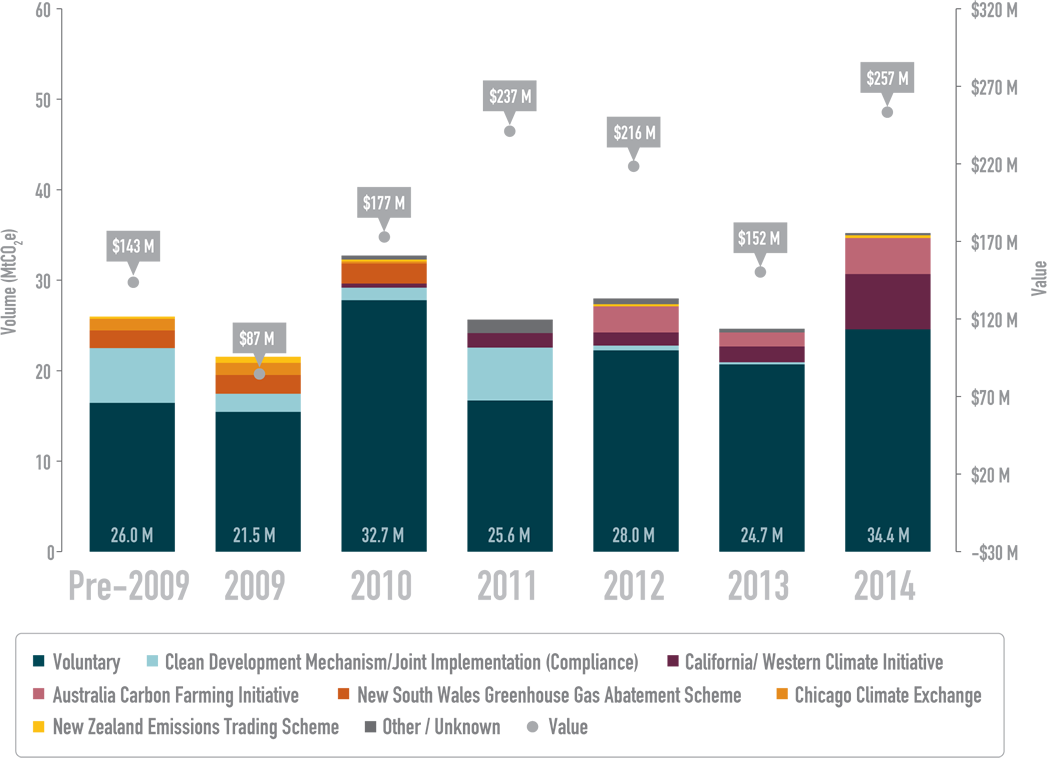 Volume of Demand for Forest Carbon Offsets by Project Type, All Markets, Historical

Powerpoint Presentation Given at Launch Webinar (presented by Allie Goldstein)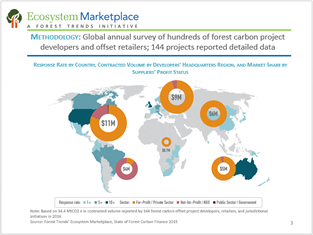 SELECT MEDIA COVERAGE
DONORS, SPONSORS, AND SUPPORTERS
The State of Forest Carbon Finance 2015 is publicly and freely available thanks to support from the report's Donors: Good Energies Foundation and the John D. and Catherine T. MacArthur Foundation; Sponsor New Forests; and its Supporters: Code REDD, the Kinship Foundation, and South Pole Carbon Asset Management Ltd.
Dependent Documents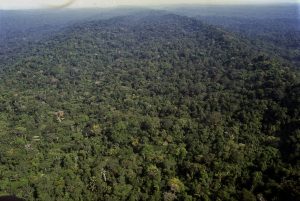 Ecosystem Marketplace tracks record demand for forest carbon offsets in 2014