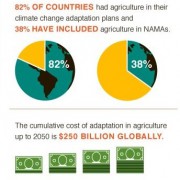 Food security is a critical yet complex issue, and CGIAR (formerly the Consultative Group on International Agricultural Research) has issued a new set of pictograms designed to help people who need to communicate it do so with pictures.
7 February 2014 | Big Facts is an open-source, online library of pictograms designed to illustrate the nexus of climate change, agriculture and food security. It is intended to provide a credible and reliable platform for fact checking amid the range of claims that appear in reports, advocacy materials and other sources. Full sources are supplied for all facts and figures and all content has gone through a process of peer review.
Anyone is free to download, use and share the facts and graphic images.
The Big Facts project is led by the CGIAR Research Program on Climate Change, Agriculture and Food Security (CCAFS). CCAFS is a strategic partnership of CGIAR and Future Earth, led by the International Center for Tropical Agriculture (CIAT). CCAFS brings together the world's best researchers in agricultural science, development research, climate science and Earth System science, to identify and address the most important interactions, synergies and tradeoffs between climate change, agriculture and food security.
Additional resources