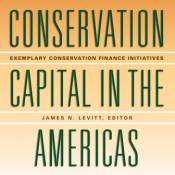 The question is tough and so are the answers in "Conservation Capital in the Americas: Exemplary Conservation Finance Initiatives." Editor James Levitt draws on case studies crossing economic and international borders to illustrate that while environmental solutions benefit from outside experiences, they require creativity and attention to local issues to succeed.
17 January 2011 | In a landmark four-day conference held in Valdivia, Chile in January 2009, conservationists and policy makers brainstormed their topic, conservation capital in the Americas, where to find it and how to make it work.   Their solutions, illustrated through case studies presented in pairs from North and Latin America, form the basis of this survey text.
No Simple Answers
There is no single nor simple answer to the question of how to protect the environment, "Conservation Capital in the Americas" concludes. Yes, conservationists can benefit from one another's experiences.   But effectively protecting the environment for future generations requires carefully crafted solutions that are both creative and local.   Case studies in "Conservation Capital in the Americas" provide a broad overview of activities that could easily be used by both professionals in the field and in graduate and undergraduate survey courses on conservation finance. The book's bottom line is that conservation can provide economic value.
Modeling, Mimicking and Making it Work
In Massachusetts, for example, the state Community Preservation Act takes fees from recording title deeds.   It applies these fees, along with city and town ballot-passed property-tax surcharges, to successfully fund locally led and supported conservation activities. Matthew Zieper, who wrote this chapter of the book, shows how Massachusetts successfully used a combination of fees and surcharges to protect 10,000 acres of environmentally valuable land. This creative, local model is now mimicked by two British Columbia municipalities, Cowichan Valley and Eat Kootenay, that passed ballot measures funding local land conservation.
Chile, meanwhile, borrowed from the US private land trust movement and adapted its example to serve Chile's specific needs, said this chapter's authors, Henry Tepper and Victoria Alonso.   The US private land trust movement protected over 37 million acres of land during the past 40 years.   Noting this achievement, a group of dedicated individuals from Chile's private and public sector labored to establish similar financial conservation incentives in their country.     These include changes to Chile's tax laws that encourage compensation when conservation easements limit land use. Called the "derecho real de conservacií³n," Chile's Private Lands Conservation Initiative, based on studies and selective application of lessons learned from US land trust movement, can now lead other Latin American countries to develop their own land trust movements.
A Welcome Addition
"Conservation Capital in the Americas" should be a welcome addition to the library of all conservation finance professionals and students.     Levitt provides an overview of the numerous issues that must be tackled to effectively finance environmental protection. His book considers legal avenues towards conservation, conservation finance through taxation and tax benefits, limited development approaches, and conservation finance impacts from sustainable enterprise, conservation investment banking, carbon sequestration, and ecosystem services.   Through clear and concise demonstrations of financial creativity at local levels that are mimicked and adapted throughout the Americas, "Conservation Capital in the Americas" provides a roadmap for conservation finance successes.