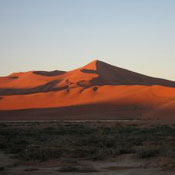 The Ecosystem Marketplace investigates a community-based conservation program in Namibia for lessons about what makes conservation payment schemes work in Southern Africa. As a small herd of elephants leaves their settlement, villagers in the #Khoadi //hoas Conservancy in arid northwest Namibia creep down to their windmill to make sure it is still intact. They want to see if the elephants have damaged the infrastructure that provides people and their livestock with life-giving water. This time, the villagers can heave a sigh of relief; the pipes and machinery that supply the water are safe behind a protective wall and the elephants have drunk their fill from the water tank built specially for them. In this corner of Namibia, villagers suffer from elephants that damage their windmills and water pipes. They also suffer from predators that kill their livestock. The people are poor and conflict with wildlife can lead to real hardship. Yet the people in Namibia's Kunene Region are not hostile towards the wildlife even when it causes problems. Rural communities in Namibia are able to form wildlife management bodies called conservancies, which receive rights over wildlife from the government. These rights enable the villagers to earn income from hunting and eco tourism through contracts with private hunting and tourism companies. This form of market-based conservation has been evolving in Namibia and elsewhere in southern Africa for more than 15 years. A number of the conservancies are now funding conservation activities and providing benefits to local residents, demonstrating that payments from trophy hunting and ecotourism can provide enough of an incentive to drive sustainable wildlife management. Are there lessons in the model, for those interested in payments for ecosystem services (PES)? Yes, say conservationists active in the region. Local communities in Namibia are demonstrating that market-based conservation built on the controlled use of wildlife can be a powerful incentive for the protection of biodiversity as long as real benefits reach the rural poor.
Income Makes a Difference
Heavy poaching and drought led to a huge decline in wildlife in Kunene Region in the 1980s. Now, in many parts of the region, nearly every village seems to have its own resident herd of springbok antelope, which have increased from a few thousand in the early 1980s to more than 130,000 today. Elephants have increased from around 300 in the early 1990s to around 800 and are moving back into areas where they had not been seen for many years. Even the endangered black rhino has more than doubled in number on the communal lands of Kunene Region, outside of any government game park. But the increases in wildlife bring new problems. For instance, cheetah, one of the world's most endangered predators, are killing the goats on which people depend for meat and milk in the #Khoadi //hoas Conservancy. In order to deal with the results of their own conservation success, the people of #Khoadi //hoas Conservancy are using their income from trophy hunting and eco tourism to reduce conflict with wildlife. The Conservancy has spent more than US$25,000 of this income on protecting water installations. It also provides diesel at a subsidized price so residents can pump water for livestock where elephants often come to drink. Seth Awiseb is a resident of the small settlement of Neuland Pos, where the Conservancy built a protective wall around the water pump that provides water for about 30 people and their livestock. The Conservancy also built an adjoining tank for elephants. Awiseb says he is happy with this support: "We are grateful for the help we get from the Conservancy. The wall stops the elephants from damaging the pump and the pipes. The Conservancy also provides diesel for our pump, meat from hunting and rams to improve our livestock. If it hadn't been for the Conservancy, the elephants would be drinking all our water." According to the Conservancy Manager, Bob Guibeb, residents were initially wary of accepting elephants and predators. After seeing real benefits from the Conservancy such as increased income for local schools and improved livestock, "they started to change their minds. The income from trophy hunting makes a real difference," says Guibeb. Now the Conservancy is hoping to increase its support to the community with increased income from a new eco tourism lodge located in a large area of land set aside by the community just for wildlife and tourism. The Conservancy has a contract with a company that manages the lodge; profits are shared and the company also helps the Conservancy run its own campsite. The government has been so impressed with the community's commitment to conservation that it recently moved three female black rhino into the conservancy wildlife area. In addition a male black rhino has moved in from elsewhere. Now the conservancy game guards proudly take tourists visiting the lodge to track the community's rhino. According to lodge manager Dominic du Raan, wildlife is increasing and poaching is low (reported poaching incidents in the conservancy have declined from 13 in 2001 to 1 in 2005). "This sort of partnership between private sector and community can work for conservation and for the local people," says du Raan.
Empowering Local People
Across Namibia there are now 50 conservancies registered with government as part of a national community-based conservation programme. Through market-based conservation initiatives they jointly earn around US$3 million. Some of this is ploughed back into conservation. #Khoadi //hoas Conservancy employs its own game guards, carries out regular wildlife monitoring and works with government officials and non government organization personnel to carry out an annual game count. Some of the income is used to create local employment and some of it is spent on direct benefits to residents. Some conservancies pay a cash "dividend" to members while others set up social funds from which needy people can draw money to help out in times of crisis. The Namibian community-based conservation programme is being supported by local and international NGOs and international donors such as the United States Agency for International Development (USAID). For most rural communities forging partnerships with the private sector is a new and daunting experience. They need help in establishing and managing these partnerships and in understanding the tourism industry. Initially they also need support in developing their wildlife management systems. But the aim is to use market-based conservation to phase out the need for external assistance. Chris Weaver, the director of a Wordwide Fund for Nature (WWF) project that supports the government's community-based conservation programme, says "As conservancies increase their incomes from the sustainable use of wildlife, they will be able to cover all their own costs and provide sufficient benefits to local residents." The big lesson here, says Weaver, is that market-based conservation works as long as there is sufficient income reaching poor households and the local people have rights over the resources involved, not just incentives to steward them. It isn't an easy process, but Weaver suggests it is a worthwhile one: "More and more conservancies are now becoming self-sufficient." Brian Jones is a consultant and researcher based in Namibia, where he specializes in community-based conservation. He can be contacted at bjones@nullmweb.com.na. First published: February 12, 2007 Please see our Reprint Guidelines for details on republishing our articles.