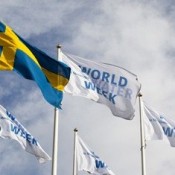 The 20th annual World Water Week is underway, with a focus on water quality.   This year, more than ever before, organizers are examining the role that market approaches, such as payments for watershed services, can play in promoting good stewardship of our planet's water-based resources.   Here's a summary of the first two days' proceedings and a preview of the days to come.
6 September 2010 | STOCKHOLM | World Water Week began with seminars and side events on Sunday, but it officially kicked off   with Monday's plenary.   Organizers outlined three issues that will dominate this year's event, which runs through Saturday:
The spread of water-borne diseases, and how to solve the poor sanitation that often drives them.   Here, the focus will be on access, funding and   changing behavior.
The spread of chemicals throughout societies, and how we can reduce it from disparate sources along large bodies of water.   The focus is on prevention rather than treatment.
The health of rivers and lakes in developing countries, and the need for government to implement existing regulations, as well as to look to consumers for their role and responsibility.
Economic Incentives in Spotlight
Organizers have wasted no time in getting to the critical issue of financing – which will be a central focus of Tuesday's program.   One of Sunday's opening seminars, entitled Cleaning up Corrupted Water – Enabling Mechanisms for Improved Water Integrity dove headlong into the critical issues of governance, incentives, and the role of the private sector.   The seminar even included a look at the Chesapeake Bay watershed, which we at Ecosystem Marketplace know all so well.
In Monday's opening plenary, UNEP Executive Director Achim Steiner highlighted the need to connect prices and market forces with true environmental cost by incorporating it into the formal economy – thus integrating ecology, society, and economy.   He even mentioned Australia's Murray-Darling Trading Scheme as an example of addressing a water quality issue with a market-based approach.
TEEB Report co-author Pavan Sukhdev also spoke on Monday, delivering a presentation entitled Watering the Green Economies of the Future, during which he called for new economic models that take into account ecosystem services and emphasized that there are not enough Payment for Ecosystem Services schemes to moderate freshwater quality.
"The current lens doesn't account for freshwater value in nature or loss of nature," he said. "We see models that show a return on investment from valuing fresh water and sanitation."
He highlighted several existing schemes up and running in South Africa, India, and Jakarta, and called for a refocus on communities to serve as providers and stewards of water resources and managers of water resources.
Underlying all discussions was the economics of the family and the critical impact that water has on children: on their health, their education, and their ability to grow into productive adults.
We'll be following World Water Week and trying to keep you up-to-date on the   programs, tools, and policies that are addressing this most basic need, but you'll find the event's own web site a valuable window into proceedings.
Additional resources