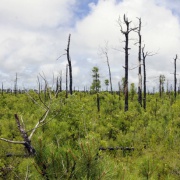 When the state of South Carolina wanted to widen the Glenns Bay Road, they risked upsetting a critical wetland habitat. Here's how mitigation banking made it possible for them to build the road and expand urban green space with a net plus to the environment – and no cost to local taxpayers.
2 October 2013 | A large gap in Lewis Ocean Bay Heritage Preserve on the outskirts of Myrtle Beach has been filled with the long-desired acquisition of a piece of old Horry County family land known as the Vaught Tract.
The 754-acre addition brings the preserve, which holds 23 of the mysterious wetlands known as Carolina Bays, to 10,444 acres.
The addition is being hailed as a precedent in the way it was acquired. The new parcel was donated as a wetlands mitigation bank, meaning credits can be bought from it by private owners, businesses or government agencies to compensate for wetlands they must destroy when they build something.
For the full story, visit The Sun News.
Additional resources