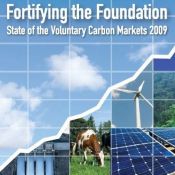 Volume on the world's voluntary carbon markets surged from 65 million tonnes in 2007 to 123 million tonnes in 2008, according to the most recent State of the Voluntary Carbon Market. The real news, however, isn't the numbers – but the drivers. Ecosystem Marketplace asked market participants what the report means for them – and for the environment at large.
20 May 2009 | The volume and value of the world's voluntary carbon markets nearly doubled in 2008, according to the latest edition of the annual State of the Voluntary Carbon Markets report, which was released on Wednesday.
Entitled Fortifying the Foundation: State of the Voluntary Carbon Markets 2009 to reflect the proliferation of new registries and other market infrastructure technologies, the report is published by Ecosystem Marketplace and New Carbon Finance with sponsorship from Evolution Markets, TZ1, JP Morgan, TíƒÅ"V SíƒÅ"D, Greenhouse Gas Services LLC, Baker & McKenzie, Essent Trading, MF Global, and Karbone.
Its aim is to provide not only an overviews of the market's size and growth, but also the motivating factors driving market participants.
"This report is the only basis we all have for assessing the reality of voluntary markets," says Timothée Lazaroo, a managing partner with French project developer ecosur.
"The report is eagerly awaited by the broader carbon market beyond the voluntary market," adds World Bank Senior Finance Specialist Karan Capoor, who co-authors the Bank's own State and Trends of the Carbon Market, which covers the entire universe of carbon trading including the compliance markets. "The Voluntary Carbon Report has been influential in urging the development of credible voluntary standards, providing quality, competition and choice to the broader market."
Chicago Hope
The report shows voluntary carbon markets transacted an estimated 123 million tonnes of carbon credits valued at US$705 million in 2008, up from 65 million tonnes of credits valued at $331 million in 2007. The average price for voluntary offset credits increased 20% to $7.34/tCO2e.
Interestingly, the bulk of the growth came not in the over-the-counter (OTC) markets, but on the Chicago Climate Exchange (CCX), which was an early mover in promoting voluntary carbon offsets but has lagged the OTC market in volume and growth for years.
The CCX has also been plagued by charges that it employs lax standards that made it possible for some developers to earn carbon credits for projects that would not meet most other "additionality" tests, which require a project developer to prove that money from the offset made the project happen.
Yet, despite the criticism, CCX's volume tripled to 69.2 million tonnes in 2008, while volume on the entire OTC market only rose 26%, to 54 million tones. Because of quality concerns, however, OTC credits traded at a premium of 66% over CCX prices – so even though the value of offsets traded on CCX quadrupled from $72 million in 2007 to $307 million in 2008, it fell short of the value of offsets traded on the OTC market, which grew an estimated 52%, from $262 million in 2007 to $397 million in 2008.
The Pre-Compliance Boost
CCX representatives weren't available for comment, but many respondents attributed the exchange's surge to so-called "pre-compliance" buying – or buying voluntary offsets in the hope of grandfathering them into a compliance regime later on. This activity picked up in the first half of last year, when US legislators first began debating carbon legislation in earnest.
Many companies loaded up on CCX offsets in the hope of getting ahead of the compliance curve, but that strategy has fallen out of favor as buyers grew to better understand the reasoning behind additionality requirements. Market participants generally say the exchange will have to rectify its quality concerns if it is to achieve continued success in 2009.
Grattan MacGiffin, head of Voluntary Carbon Markets at MF Global Limited, says he's confident in the exchange's ability to do so. His company just became a CCX member.
"I like what they're doing," he says. "They have a market that is up and running, and they just need to tweak the quality."
Pre-Compliance: Siren Song or Harbinger?
Despite the Chicago surge, pre-compliance buying is not a key driver in the voluntary sector. Instead, according to credit sellers, corporate social responsibility and public relations benefits remained the most popular customer motivations for buying voluntary offsets.
Some suppliers did mention that purchasing for investment and resale has grown in importance on the back of possible future compliance markets and/or increased voluntary offsetting – an activity that Caroline Angoorly, head of Environmental Markets for North America at JP Morgan, says may pick up in the coming months.
"There hasn't been a ton of pre-compliance trading, but the slow train that has been coming for a while is starting to speed down the tracks," she says. "We're getting a lot of calls from people in the power and transportation industries who are saying, 'Now I have to go to my board and start talking about strategy and risk management of carbon exposure.'"
Lazaroo says he's getting calls as well – but that participants will need to see more regulatory certainty before they begin buying pre-compliance credits in a big way.
"The grandfathering into compliance credits remains, in our view, theoretical and experimental at this stage, so we are not pushing buyers to jump in," he says. "We suppose that this will evolve in a close future, but taking position in this uncertain situation remains risky and as we are wholesalers and no retailers, our buyers don't take the chance of purchasing large volumes until regulation is clear."
The Recession
The bulk of last year's volume came before the devastating final quarter, and the volume figures reported to Ecosystem Marketplace and New Carbon Finance show rising volume to the fourth quarter of last year, and then a drop-off. Angoorly, however, says the new report helped assuage fears that people would be putting environmental issues on the back-burner during the recession.
"What's heartening from the executive summary is that, yes there has been a slowdown because this market is part of all markets and subject to the same macro factors, but there has still been tremendous growth," she says. "The fact that the volume of the market has grown even in the most stressed times indicates that people are looking at the sustainability of their business."
The report also showed more speculative buying from banks and amalgamators looking to sell both voluntary and compliance offsets at higher prices down the road. That buying dried up in the fourth quarter, and has not returned yet.
"We saw a lot of speculative buying last year, but not since the downturn," says Lazaroo. "Since the beginning of the year, we've seen a real slowdown in transaction pace."
Especially worrisome, he says, is the low price of many voluntary offsets.
"The value of VCUs is lowering, and at four euros it's difficult to demonstrate additionality," he says, pointing out that most demonstration tests for additionality require the project developer to compare the project's profitability with and without carbon credits.
"If you have a four-euro credit, the impact is low," he says. "If prices don't rise soon, a lot of projects will be sunk."
The Asian (and Turkish) Wave
The report shows that the United States remains the largest provider of voluntary offsets (28% of the total) and the largest buyer (39%). As a region, however, Asia contributed 45% of all carbon credits bought on the OTC market in 2008, and the Middle East emerged as a key source of credits, supplying 15% of OTC transaction volume in 2008 as a result of a few large projects in Turkey.
Credits originating from projects in the EU & Eastern Europe declined sharply – from 13% in 2007 to 1% in 2008; credits from the EU, Canada, Australia and New Zealand also declined significantly with the coming into force of the Kyoto Protocol and resulting concerns over double counting.
Products – and By-Products
Interestingly, many of the new credits being offered in Turkey and elsewhere are what have come to be called "pre-CDM VERs".
These are voluntary offsets issued by projects that have been established to generate compliance credits under the Clean Development Mechanism (CDM), but aren't yet registered to do so.
"Basically, you have a lot of projects that have been verified for the CDM and commissioned, but then they're sitting around waiting to be registered," says MacGiffin. "It's a function of lack of personnel and also the CDM's review process, which can take about eight months longer than the VCS process."
As a result, cash-strapped projects often spend the months between the time the project is commissioned and the time it is registered with the CDM issuing VERs on what are essentially CDM projects.
"There's a lot of pressure to get this lag time reduced," says MacGiffin. "Let's face it, you don't want seven months of five-euro credits; you want seven months of twelve-euro credits."
Paradoxically, that means an improvement in the CDM registration process could mean fewer high-quality voluntary offsets – but no one is holding their breath until the issue is resolved.
The Standard-Bearers
The report also shows that more than 96% of offset credits were verified to a third-party standard in 2008, and the market coalescing around four voluntary standards: namely, the Voluntary Carbon Standard (VCS), the Gold Standard, the Climate Action Reserve, and the American Carbon Registry, which together grabbed 79% of the OTC market.
"It makes perfect sense," says Lazaroo. "The only voluntary standards we use are VCS and Gold Standard, because we are primarily a CDM consultancy company, so we deal on a daily basis with CDM methodologies, and these most closely resemble CDM methodologies."
David Antonioli, CEO of the Voluntary Carbon Standard Association, agrees the VCS has benefitted from its resemblance to the CDM, but adds that more projects are being designed specifically with the VCS in mind. Indeed, respondents indicated a desire to develop VCS standards with a social standard, such as the Climate, Community and Biodiversity (CCB) standard laid on top of it.
He believes VCS also gains by being a neutral platform with no other function than to provide a standards, and says the VCS will only continue to grow as it irons out protocols relating to the development of forestry and land-use projects.
Meanwhile, the most popular sources of carbon offsets were renewable energy projects, supplying more than 50% of the total volume of credits transacted in 2008.
Landfill gas (methane) projects were the second most popular type, responsible for 16% of the market – and driven largely by pre-compliance demand in the United States.


Steve Zwick is Managing Editor of Ecosystem Marketplace. He can be reached at SZwick@nullecosystemmarketplace.com.
Please see our Reprint Guidelines for details on republishing our articles.
Additional resources