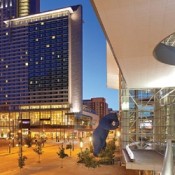 The US Fish and Wildlife Service is contemplating the creation of mitigation mechanisms that go beyond Candidate Conservation Agreements with Assurances and include crediting systems operated by individual state fish & wildlife agencies. Formal commenting won't open until autumn, but the ideas are already circulating at the National Mitigation & Ecosystem Banking Conference in Denver.
NOTE: This is one of many stories we are following at the National Mitigation & Ecosystem Banking Conference   in Denver this week. We will be updating and amending this story as the week unfolds.
8 May 2014 | DENVER | Tthe US Fish & Wildlife Service is contemplating a revision of its mitigation policy to create a single umbrella policy for all resources (endangered species, wetlands, habitat, and migratory birds), and an endangered species compensatory mitigation policy, according to Larry Bright, Chief of USFWS's Branch of Conservation Planning Assistance.
Both are expected to be released for public comment in the fall of 2014, but a draft pre-listing mitigation policy will be published in the Federal Register even sooner, and this may go beyond Candidate Conservation Agreements with Assurances to creating crediting systems operated by state agencies, he said at the National Mitigation & Ecosystem Banking Conference here.
"The idea is to develop some other tools that make it possible for states and private entities along with public landowners to come together and work on conserving a species to avoid listing," said Bright. USFWS would be involved in laying the groundwork for establishing credits, while states would take the lead role in administering the crediting systems themselves for non-listed species.
He made the remarks during a panel discussion with Karen Hamilton of EPA District 8, with moderation from Doug Lashley.
Bright focused on the recent Department of Interior (DOI) mitigation strategy and other initiatives in the works.
Questions from that session [paraphrased here]:
Audience member: The principles in the draft DOI mitigation strategy make no reference to restoration – seeming to focus more on preservation?
Bright: That was not the intent. Restoration is very much a part of the mitigation strategy.
Audience member: Will USFWS mitigation policy include a preference for banks, similar to the EPA/Corps 2008 Rule?
Bright: I would say yes, in our discussions thus far. Let me put it this way – we have a preference for advanced mitigation. I believe that's essentially the same thing [as a preference for banking].
Audience member: What's being done to increase the efficiency of permitting?
Hamilton: I can't speak for the Corps [the permitting agency]. But the proposed EPA/Corps rule to define waters of the US – the intention there is definitely to improve permitting efficiency, and to increase clarity and certainty around what activities are or are not exempt from permitting.
Bright: We're always looking at ways to make permitting more efficient… We know time is money. We feel if we can put resources into advanced planning, and create a conservation strategy for a whole region, identifying the most important places for mitigation, we can really streamline the permitting process.
Lashley: The May 2013 White House Executive Order on efficiency had the primary purpose of facilitating and streamlining permitting on a national scale when it comes to infrastructure improvements… the order required each of the agencies to respond. I understand that in a report from the Office of Management and Budget, due out sometime in the next three weeks, the concept of advanced compensatory mitigation is highly favored as a way to make permitting more efficient, based on success in the wetland banking arena.