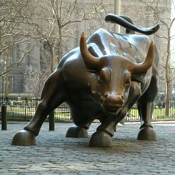 Agriculture Secretary Mike Johanns unveiled the USDA's plans for the 2007 Farm Bill on January 31, 2007. Since environmental markets are front and center, The Ecosystem Marketplace takes a close look. Imagine a world in which farmers and ranchers were paid to generate not just standard agricultural goods such as strawberries, hay and corn, but a whole slew of ecosystem services such as water filtration, carbon sequestration and wildlife habitat. Imagine a world in which carbon and water-quality credits traded on a commodities exchange alongside oat and wheat futures. Sound crazy? The U.S. Department of Agriculture (USDA) doesn't think so. In fact, a number of announcements in the final week of January 2007 brought the brave new world described above one huge step closer to reality. When Agriculture Secretary Mike Johanns unveiled the USDA's plans for the 2007 Farm Bill on January 31, 2007, it was hard to miss the new focus on incentive-based conservation in many of the 65 proposals. "We started with the 2002 farm bill and propose to improve it by bolstering support for emerging priorities and focusing on a market-oriented approach," said Johanns. The USDA's proposals would increase conservation funding by $7.8 billion over 10 years, simplify and consolidate conservation programs, create a new Environmental Quality Incentives Program and a Regional Water Enhancement Program. The proposed farm bill would also include $1.6 billion in new funding for renewable energy research, development and protection, with bio-energy and bio-based research initiatives claiming a $500 million slice of the pie and big subsidies targeted for the production of cellulosic ethanol. Johanns' announcement concerning ethanol probably pleased a number of venture capitalists in Silicon Valley (according to Cleantech Venture Network, venture capital investment in biofuel companies topped $740 million in North America in 2006), but more surprising is the fact that the gist of the larger proposal also won praise from environmental groups who have been watching the bill's creation closely. "The next Farm Bill is a chance to help many more farmers, consumers, communities and the environment," said Environmental Defense Farm Policy Campaign Director Scott Faber. "Secretary Johanns has helped to lay the groundwork for farm and food policy reforms that will ensure the next Farm Bill helps meet America's pressing energy, health and environmental challenges." The groundwork Faber references includes a series of far-reaching proposals that would introduce market-based auction mechanisms and local bidding pools to allocate conservation funds based on cost per environmental benefit, and create stronger incentives for private markets in ecosystem services, such as increased wildlife and wetland habitat, water-filtration, and carbon sequestration. Title 2 of the proposals, for instance, calls on the federal government to "Invest $50 million over ten years to encourage new private sector environmental markets to supplement existing conservation and forestry programs." More specifically, the document states that "While private markets for environmental goods and services are emerging, their viability has been hampered by several barriers including; high transaction costs, the small quantity of benefits that can be provided by individual farmers or landowners, performance risks and liability, and uncertainties in quantifying benefits." "New authorities," it adds, "could overcome these barriers and promote the establishment of markets for agricultural and forestry conservation activities." Therefore, in order to redress these problems, the USDA is proposing that the $50 million in "mandatory" funding would "be utilized to develop uniform standards for quantifying environmental services; establish credit registries; and offer credit audit and certification services." All of these are essential parts of a robust government infrastructure for environmental markets and are huge leaps forward in the direction of a future where the value of environmental services is incorporated into the economic system.
From D.C. to Doha
In order to understand the forces driving this shift toward market-oriented programs, it is important to look beyond American borders. In March 2006, The Ecosystem Marketplace reported: "The story of how Brazil crashed the farm bill party begins in 2001 at the Doha Round of World Trade Organization (WTO) negotiations. Agricultural subsidies dominate much of the Doha Agenda, with many arguing that Western nations, by propping up their farmers with subsidies, are limiting one of the few economic arenas where developing nations might enjoy a competitive advantage. In 2003, Brazil formally complained to the WTO that the price support paid to U.S. cotton farmers was a violation of the Uruguay Round Agricultural Agreement, and the WTO ruled in favor of Brazil in September 2004. The Brazil ruling set up a collision course on several fronts. Chief among them is the fact that, while the White House supports cutting subsidies, trade liberalization is a tough sell to American voters. Since the ultimate burden of ensuring WTO compliance lies with the U.S. House and Senate, the Doha round of talks could fail unless Congressional legislators quickly find ways to keep both American and Brazilian farmers happy in the 2007 Farm Bill. For environmentalists, this challenge raises a tantalizing prospect: If billions of dollars in agricultural subsidies violate international trade law, could the money be redirected to conservation?" Johann's new announcement suggests the answer might just be: yes. Brazilian president Luiz Inacio Lula da Silva announced on January 29, 2007 (just two days prior to Johann's announcement of the proposed Farm Bill) that he is now, "more optimistic about the revival of negotiations of the Doha round because there is political willingness for this to succeed. In particular, he pointed to ethanol and biodiesel as promising areas of investment for developing countries and stressed that biofuel projects are eligible for carbon finance under the Kyoto Protocol. (See more on the history of WTO negotiations and the U.S. Farm Bill)
Reading Tea Leaves
Recent announcements from for-profit and non-profit organizations alike, suggest that Lula is not the only one who has been reading tealeaves of late. Agweek Magazine reported on January 30, 2007 that, "Some $2 million in checks should start going out to about 600 farmers in North Dakota by early March for carbon credits that have been aggregated in the first round by the North Dakota Farmers Union." The North Dakota Farmers Union is one of several organizations in a 14-state region of the U.S. that is aggregating carbon credits from farmers for sale on the Chicago Climate Exchange (CCX), a members-only exchange that trades in pollution permits and offsets. (See more on CCX) CCX already has certification standards for soil and forestry carbon sequestration projects and Agweek says the Exchange hopes to approve several other agriculture-based methodologies this spring. One could focus on rotational grazing programs on native rangelands and others might focus on carbon sequestration in wetlands or the production of switchgrass. "If farmers get into the business of raising switchgrass, selling residue into the cellulosic ethanol market, the planting also could qualify for carbon sequestration credits," reported the magazine. (Read the Agweek article) Perhaps following the North Dakota Farmers Union's lead, conservation organizations across the U.S. have begun signaling interest in playing a role in the evolving carbon market. The Trust for Public Land's website is currently advertising for a Carbon Sequestration Program Director who, "will be responsible for consolidating and developing a carbon credit program at the Trust for Public Land. As such, this position works to generate and market carbon sequestration credits both to address climate change and help underwrite conservation."
More Than Semantics?
With real money taking an interest in biofuels (as well as the prospect of a federal carbon market in the U.S.), environmental groups expressing measured support for the USDA's new direction, Brazil's new optimism about the Doha round of WTO talks, and unusual suspects stepping up to help bring carbon credits to market, negotiations over the 2007 Farm Bill look set to be interesting. But as anyone familiar with the political process in D.C. will tell you, Johanns' announcement on January 31, 2007 was merely the opening move in the complicated political game that will decide the ultimate shape of the next U.S. Farm Bill. Look for plot twists and more details in the days ahead. Already the Ecosystem Marketplace has gotten wind of some of these details, which could be made public as early as next week. Rest assured, as soon as we hear anything, you will too. Amanda Hawn and Ricardo Bayon are, respectively, the Managing Editor and the Managing Director of the Ecosystem Marketplace. First published: February 2, 2007 Please see our Reprint Guidelines for details on republishing our articles.