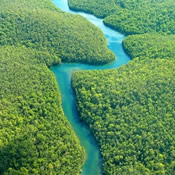 Ecosystem Marketplace is at the One Water Leadership Summit in Los Angeles this week where everyone is thinking about the water-energy nexus. Meanwhile, Australia's newly elected government reduces funds for Murray-Darling buybacks and Coca-Coca enters into a partnership with the USDA to protect US National Forests.
This article was originally published in the Water Log newsletter. Click here to read the original.
25 September 2013 | In August, the Chinese leadership announced an initiative to cut dependence on coal in a dozen major cities in the country. Plans for new coal plants will be cancelled, mines closed, and utility prices increased. On the heels of that news comes the prediction that a carbon tax will likely be introduced in China by 2016, in tandem with a national emissions trading system.
Why are we talking about carbon and coal in a newsletter about water? Well, because you can't make meaningful progress on one set of problems without tackling the other. The coal industry in China uses as much as 20% of the country's water. The country's water crisis is putting tremendous pressure on its energy supplies, and vice versa. In India, financing for coal power has dried up due to lender concerns about water risk surrounding those projects.
This is not a problem unique to emerging economies. This week, we're reporting to you from the One Water Leadership Summit in Los Angeles, California – a state where water infrastructure accounts for the single greatest use of energy. With tremendous water infrastructure investments required in the USA and around the world in coming decades, it's worth asking what that means in terms of increased energy demands.
The good news is that we have a choice between taking advantage of the energy-water nexus, or being trapped by it. A recent report from The Union of Concerned Scientists, for example, suggests that a shift to renewable energy sources in the United States could lead to a 97% drop in water withdrawals for power by 2050.
The trick will be to advance major change in two sectors – water and energy – not known for their quick metamorphosis. Here in Los Angeles, just about every presentation so far has referred to "innovation" – whether in regards to roofing Californian aqueducts with solar panels or micro-hydro installations in water piping systems.
A good start might be in the articles below. This month's Water Log briefing brings you a host of news on projects like incentives for better land management in China, Arizona, Peru, and Nepal, or new opportunities for business in the US clean water space. Like energy and water, these cases offer a "two-fer" – an opportunity to achieve interdependent goals like poverty alleviation and environmental protection, or water risk mitigation and business opportunities.
On a final note, if you value our monthly briefings, consider a small donation to help us keep the lights on. As a non-profit, we're committed to increasing transparency around environmental investments, and making sure everyone has access to that information free of charge. If you'd like to support that mission, keep in mind that just $150 gets you listed in our sidebar for a full year; we also offer tile ads in the news briefs or on our home page. Click here to donate or shoot us an email.
Happy reading,
— The Ecosystem Marketplace Team
For questions or comments, please contact newsletter@nullecosystemmarketplace.com
CONTRIBUTING TO ECOSYSTEM MARKETPLACE

Ecosystem Marketplace is a project of Forest Trends a tax-exempt corporation under Section 501(c)(3).The non-profit evaluator Charity Navigator has given Forest Trends its highest rating (4 out of 4 stars) recognizing excellence in our financial management and organizational efficiency.



Additional resources