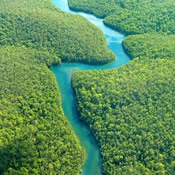 Forest Trends is participating in The Peruvian Ministry of Environment's Peru Watershed Services Incubator's clinic this week to discuss hydrology, economics and social issues with national agencies and institutions. Hurricane Sandy spurs water and climate risk talks while a former New York environmental Commissioner explains how natural infrastructure helped NYC's drinking water supplies weather the storm.  
This article was originally published in the Water Log newsletter. Click here to read the original.
12 November 2012 | Greetings! This week, the Forest Trends team is participating in a clinic in Peru on watershed protection mechanisms and benefit sharing. The clinic, organized by the The Ministry of Environment of Peru (MINAM) and its newly minted Peru Watershed Services Incubator, is the first opportunity for leaders and experts from national agencies, institutions, and projects in the Incubator's portfolio — as well as those from other projects in Peru, Bolivia, and Mexico — to meet, share experiences, and work through specific issues including hydrology, economics, and social issues
The Incubator was developed with the support of Forest Trends and key partners such as CONDESAN, EcoDecision, and the Swiss Agency for Development and Cooperation. The Incubator has been busy since its launch in May: it's supporting a decision-making framework for Lima's water fund Aquafondo, a pilot to address sedimentation in the Jequetepeque watershed, and capacity building for a compensation for watershed services scheme in Moyobamba. Look for a write-up next week on Watershed Connect.
In the meantime, enjoy your monthly roundup of water news. It's no surprise in the wake of Hurricane Sandy in the US that water and climate risk are hot topics, but it's not just on the eastern seaboard of the US. We've selected the best of the latest reporting on water insecurity around the world, from the factories of China to the forests of Kenya to the streets of Lorca, Spain, where excessive groundwater pumping triggered a deadly earthquake.
 
Not to fear – we've got solutions, too, including a survey of water utility execs on how they plan to meet to challenges, watershed payments improving food security in Kenya, and an article from New York's own former environmental Commissioner, Al Appleton, on how the Big Apple's drinking water supplies weathered the storm thanks to natural infrastructure.
— The Ecosystem Marketplace Team
For questions or comments, please contact newsletter@nullecosystemmarketplace.com
GENERAL

POLICY UPDATES

GLOBAL MARKETS

EVENTS

CONTRIBUTING TO ECOSYSTEM MARKETPLACE

Ecosystem Marketplace is a project of Forest Trends a tax-exempt corporation under Section 501(c)(3).The non-profit evaluator Charity Navigator has given Forest Trends its highest rating (4 out of 4 stars) recognizing excellence in our financial management and organizational efficiency.

Please see our Reprint Guidelines for details on republishing our articles.
Additional resources