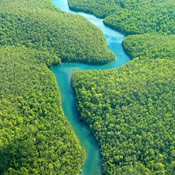 There are implications for water in the 'landscapes approach' that everyone has been talking about in that it has the potential to align climate finance with sustainable water management goals like food security and water quality. Meanwhile, the USDA and EPA announced a partnership to scale up water quality trading markets and the Chinese examine natural infrastructure investment.
This article was originally published in the Water Log newsletter. Click here to read the original.
19 December 2013 | You couldn't escape it if you attended year-end climate talks in Warsaw this year. After all, Indonesian Deputy Minister Heru Prasetyo talked about it incessantly, as did World Bank Vice President Rachel Kyte. Peter Holmgren, who heads the Center for International Forestry Research (CIFOR), built the two-day Global Landscapes Forum around it, and the United States, United Kingdom, and Norway launched the Initiative for Sustainable Forest Landscapes (ISFL) to make it a reality. Even official negotiators meeting under the auspices of the under the auspices of the United Nations Framework Convention on Climate Change (UNFCCC) held a two-day workshop on it.
 
The "it" is the "landscapes approach" to reducing greenhouse gas emissions from fields, farms, and forests. But what exactly does that mean? And what's it doing in a newsletter about water?
   
Several speakers described it as a "holistic" approach that aims to go beyond reducing emissions from deforestation and forest degradation (REDD) and even beyond REDD+ (which incorporates more activities) by shifting the focus beyond just capturing carbon in trees and towards a complete re-engineering of the rural economy that incorporates people, places, and culture.
A shift towards a landscapes approach has the potential to meaningfully align climate finance with goals for managing water quality, natural habitats, food security, and sustainable livelihoods.
 
It's the kind of monumental aspiration the UN is great at articulating but horrible at achieving – until you stop to consider that this "shift" actually reflects what's already happening in the voluntary carbon markets, and it's being led by foresters, farmers, and project developers. The question is whether the landscape paradigm will simply be a guiding vision for REDD, or the foundation for a much broader unification of environmental finance.
Our headline article this month, Unpacking Warsaw: Recognizing the Landscape Reality, talks about this shift and what it could mean for integrated management of rural landscapes. We invite you to take a look.
In this month's Water Log, we also have a number of stories on Chinese natural infrastructure investments (known in-country as "eco-compensation"), including a new initiative to protect source water supplies for China's "mega-cities." Water quality trading had a good month, with a new USDA-EPA partnership dedicated to scaling up markets and a lawsuit dismissed in the Chesapeake that had questioned the legality of trading mechanisms to meet Clean Water Act goals. And a just-announced $40 million grant from the World Bank's GEF will enable the creation of watershed payment programs in coastal watersheds in Mexico.
See you in 2014!
— The Ecosystem Marketplace Team
For questions or comments, please contact newsletter@nullecosystemmarketplace.com
CONTRIBUTING TO ECOSYSTEM MARKETPLACE

Ecosystem Marketplace is a project of Forest Trends a tax-exempt corporation under Section 501(c)(3).The non-profit evaluator Charity Navigator has given Forest Trends its highest rating (4 out of 4 stars) recognizing excellence in our financial management and organizational efficiency.
Additional resources