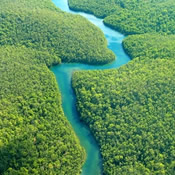 Water news ranging from the creation of a "storm panel" in New York City to discuss natural infrastructure investments for protection against the next Sandy-style storm, to a growing payments for watershed services project in Tanzania signal 2013 may be a good year for the water sector. Also, Ecosystem Marketplace's State of Watershed Payments 2012 report had its live launch in DC last week.
This article was originally published in the Water Log newsletter. Click here to read the original.
29 January 2013 | Judging by the contents of this newsletter, 2013 is going to be a good year for water. We have story after story about cities and organizations pushing ahead new natural infrastructure projects and policies that build resilience, protect water resources, save money, and look good while they do it.
It's been an exciting month here at Ecosystem Marketplace, too: last week we launched our new "State of Watershed Payments 2012" report, tracking investments in watersheds around the world. We found twice as many active programs as in our last report, and a $2 billion increase in annual investments in 2011. We hope you'll take a look at the report (you can do so by clicking here) and as always we welcome your questions and feedback.
If you're in the DC area, tonight we're hosting a launch event for the report at the World Bank. Stop on by if you're in town! Event details can be found here.
Happy reading,
— The Ecosystem Marketplace Team
For questions or comments, please contact newsletter@nullecosystemmarketplace.com
GENERAL

POLICY UPDATES

GLOBAL MARKETS

EVENTS

CONTRIBUTING TO ECOSYSTEM MARKETPLACE

Ecosystem Marketplace is a project of Forest Trends a tax-exempt corporation under Section 501(c)(3).The non-profit evaluator Charity Navigator has given Forest Trends its highest rating (4 out of 4 stars) recognizing excellence in our financial management and organizational efficiency.
Additional resources