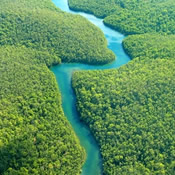 Organizations throughout the world are preparing for the Rio +20 Summit beginning next week and Forest Trends is no exception. During the conference, Forest Trends will be busy hosting an event that explores investing in mountain communities through watershed services and also collaborating with Google Earth Outreach on a side event concerning data collection and mapping.  
This article originally appeared in the Water Log newsletter. Click here to view the original.
Well, after twenty years we're back in Rio!
16 June 2012 | The latest United Nations Conference on Sustainable Development kicks off on June 20th. Forest Trends and our partners will be hosting an event, "Scaling up Investments in Watershed Services: Investing in Mountain Communities
for Sustainable Development." This panel, moderated by Gabriel Quijandrí­a, Vice Minister of Strategic Development of Natural Resources at the Peruvian Ministry of Environment (MINAM), will highlight some of the most successful models and important insights culled from experience to date while exploring how Investments in Watershed Services (IWS) projects, programs, and policies can be integral components of sustainable development strategies, particularly for mountain communities. Learn more about the event here and if you're at the conference, do stop by the Mountain Pavilion!
 
 We'll also be participating in a side event with Google Earth Outreach, "Tools for Data Collection and Mapping: the Ground to the Cloud Story" on June 18th. Learn how maps can change the world! Find out more here.
 
 Interested in learning more about Forest Trends' involvement in Rio+20 but couldn't afford the ticket and hotel costs? Join us for the next best thing – our own Jan Cassin and Beto Borges will provide an overview of our Water Initiative and Communities & Markets activities at Rio+20 during a free webinar on June 28. Register here.
 
 We'll be covering news from Rio as it develops – follow us on Twitter or visit our water portal, Watershed Connect, to keep up.
 
 Happy reading!
— The Ecosystem Marketplace Team
For questions or comments, please contact newsletter@nullecosystemmarketplace.com
GENERAL

POLICY UPDATES

GLOBAL MARKETS

EVENTS

CONTRIBUTING TO ECOSYSTEM MARKETPLACE

Ecosystem Marketplace is a project of Forest Trends a tax-exempt corporation under Section 501(c)(3).The non-profit evaluator Charity Navigator has given Forest Trends its highest rating (4 out of 4 stars) recognizing excellence in our financial management and organizational efficiency.

Please see our Reprint Guidelines for details on republishing our articles.
Additional resources