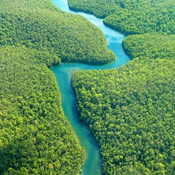 Ecosystem Marketplace is gearing up for the 2014 State of Watershed Payments report. The report will cover the water energy food nexus and watershed investments among other topics. Meanwhile, EM is also preparing for Katoomba XX in Lima Peru where discussions will focus on aligning climate policy with other commitments that support resilient ecosystems and societies.
This article was originally published in the Water Log newsletter. Click here to read the original.
31 March 2014 | Your editors have been wondering whether long, cold winters lead to putting extra irons in the proverbial fire, because we sure are busy this month. We've launched our 2014 water survey, gathering data for a new 'State of Watershed Payments' report due out later this year. If you're working in the field of natural infrastructure investments – whether that's PES, water quality trading, partnerships for water stewardship, or something else, please get in touch. You can fill out the survey online, or work with us to share data through an interview or hard copy of the survey. The survey is also available in Spanish.

It's going to be a great report this year. We're looking forward to covering financing mechanisms, watershed investment ROI, and nexus issues in greater detail. Be part of it by reporting on your own work, or talk to us about partnership and sponsorship opportunities.
We're also preparing for the twentieth Katoomba meeting, "Climate, Forests, Water, and People: A Vision of Development for Tropical America." With COP 20 only months away, and also to be held in Lima, Peru, we look forward to thinking about how to align climate policy and finance with other investment commitments, to ensure that forests and other ecosystems continue to support for a stable climate and resilient societies. If you're interested in attending, learn more here.
 
We'll be joining Natural Capital Markets for a free webinar on April 16th, exploring new models and actors driving natural capital investments in watershed services and biodiversity. Learn more and register here.
 
And finally, we're looking forward to the US Chamber of Commerce Foundation's upcoming symposium, "Accelerating Sustainability: Energy and Water in Your Operations and Supply Chains" in Washington DC on May 6th. Look for us chairing the session on natural infrastructure. Follow the link to register – 'Early Bird' rates are available through the end of this month.
The water-energy nexus focus of the symposium is a timely one; it's also the topic of this year's World Water Day and two new reports which we cover in this month's newsletter: a new World Water Development Report tracking how energy development may be accelerating water risk, and a white paper that considers the nexus rationale for integrating carbon and water footprint management.
 
We also have coverage of the world's first interstate water quality trade (again, the energy sector makes an appearance!), and a new report from CDP that suggests that the private sector in India is failing to act on its water risk exposure.
Very best,
— The Ecosystem Marketplace Team
For questions or comments, please contact newsletter@nullecosystemmarketplace.com
CONTRIBUTING TO ECOSYSTEM MARKETPLACE

Ecosystem Marketplace is a project of Forest Trends a tax-exempt corporation under Section 501(c)(3).The non-profit evaluator Charity Navigator has given Forest Trends its highest rating (4 out of 4 stars) recognizing excellence in our financial management and organizational efficiency.



Additional resources