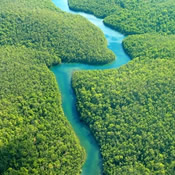 Ecosystem Marketplace is taking an up-close look at the landscapes approach to nature and conservation starting with two Katoomba Meetings this spring, which will help prompt cross-sector collaboration. Meanwhile, EM monitors landscapes thinking activities in Yorkshire, England and the US.
This article was originally posted in the Water Log newsletter. Click here to read the original.
28 February 2014 | Environmental finance has always been something of a double-edged sword.
Mechanisms like species banking, forest-carbon crediting, and investments in watershed services draw finance into conservation, based on the fundamental recognition that our civilization depends on clean air, clean water, and resilient ecosystems. On the other hand, focusing efforts (and finance) on specific ecosystem values favors those that can be measured and verified, which means we run the risk of leaving a whole symphony of ecosystem services unaccounted for and unsupported.
Scientifically, that never made sense. Forests feed rivers, which feed farms, which feed us. It all links together. But our economic and regulatory systems weren't designed with nature in mind. Landscapes thinking aims to fix this flaw by nurturing our planet's living ecosystems holistically rather than in their component parts.
But creating sustainable landscapes requires the cooperation of major agriculture players, policy makers, and financial institutions, as well as scientific experts in deforestation, water, and biodiversity. Two upcoming global Katoomba Meetings – the first to be held in Brazil in March followed in April by one in Lima – demonstrate that principle in action, bringing together diverse stakeholders together as part of an ongoing effort to accelerate this change.
Landscape approaches are a recurring feature in this month's Water Log as well.
We have stories about a $30 million dollar effort to manage forested watersheds in the US for multiple functions: drinking water protection, carbon sequestration, habitat, and resilience to wildfire and other disasters. In Yorkshire, a water company is working with local farmers, hunters, business and government to restore moorlands to health, selecting strategies that benefit local wildlife, protect downstream areas from flooding, sequester carbon, and naturally filter water.
We think stories like this are important. A 'landscape approach' sounds nice (or all "motherhood and apple pie," as they might say in Yorkshire) but the average observer might wonder what, exactly, investing in nature at a landscape scale looks like in practice.
We suggest taking a look at coverage of a recent WRI/IUCN effort to collect lessons about successes and failures in forest landscape restoration, inventorying more than 20 examples from countries spanning the globe. We also have coverage of a powerful new tool for real-time, landscape-scale monitoring: the Global Forest Watch, a project of Google and the University of Maryland. With 'landscape approaches' becoming the latest buzzword at global climate talks, 2014 may be a big year for projects like these.
— The Ecosystem Marketplace Team
For questions or comments, please contact newsletter@nullecosystemmarketplace.com
CONTRIBUTING TO ECOSYSTEM MARKETPLACE

Ecosystem Marketplace is a project of Forest Trends a tax-exempt corporation under Section 501(c)(3).The non-profit evaluator Charity Navigator has given Forest Trends its highest rating (4 out of 4 stars) recognizing excellence in our financial management and organizational efficiency.
Additional resources