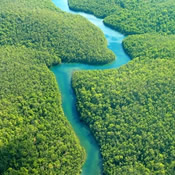 Parties with an interest in regulations falling under the Clean Water Act are still sorting out the implications of the recently finalized Clean Water Rule. Meanwhile, green infrastructure scored several victories this month as New York City, Detroit and Xiamen contemplate using the practice to manage stormwater overflows.
This article was originally published in the Water Log newsletter. Click here to read the original.
29 May 2015 | After a year of controversy and debate among environmentalists, farming interests, landowners and legislators, the US Environmental Protection Agency and Army Corps of Engineers released a new rule this week which seeks to clarify which wetlands and streams are protected under the Clean Water Act. The rule has likely impacts on a number of regulatory programs – and a high likelihood of meeting future litigation as permittees, environmentalists, and others sort out its implications.


In other stories this month, interest in green infrastructure and low impact development (LID) by cities is picking up rapidly, if the volume of news is any indication. New York City published monitoring results from three demonstration projects showing a better-than-expected 20% cut in stormwater flow to sewers, while cities from Xiamen to Detroit are also getting on board.
It's about time. As a recent white paper from Veolia and the International Food Policy Research Institute points out, even under the best case scenario, "water quality is still projected to deteriorate dramatically" globally in the coming years, and especially in Asia. Despite the bad news, the paper's conclusions are noteworthy. The authors call for new infrastructure investment but also soft-path solutions: watershed-scale approaches, better management of rural and upstream areas, and water quality trading.
The search for solutions to water quality challenges is evident in a flurry of recent news on trading mechanisms. Progress is underway on a new trading program in Arkansas, while the city of Santa Rosa, California, will pay $330,000 to a vineyard for nutrient offset credits. Meanwhile, nutrient trading is being floated in basins from the Baltic to India's Ganga River, as a cost-effective strategy to manage enormous water pollution challenges.
As always, you don't have to wait til next month to get the latest on natural infrastructure finance and trends. Subscribe to us on Twitter, and check out our daily news feed.
— The Ecosystem Marketplace Team
For questions or comments, please contact newsletter@nullecosystemmarketplace.com
POLICY UPDATES

GLOBAL MARKETS

EVENTS

CONTRIBUTING TO ECOSYSTEM MARKETPLACE

Ecosystem Marketplace is a project of Forest Trends a tax-exempt corporation under Section 501(c)(3).The non-profit evaluator Charity Navigator has given Forest Trends its highest rating (4 out of 4 stars) recognizing excellence in our financial management and organizational efficiency.



Additional resources