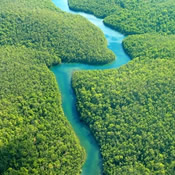 Ecosystem Marketplace is putting out a last call for project developers to include their projects in the State of Watershed Payments 2012 report. Meanwhile Volkswagen has implemented a successful groundwater replenishment project in Mexico and Ecotrust released a study claiming ecological restoration can boost the economy.  
This article originally appeared in the Water Log newsletter. Click here to read the original.
29 September 2012 | Greetings, Water Loggers!
We'll call this the month of silver linings. This Water Log is full of pleasant surprises appearing in the midst of bad news. A new GEF report tracks water scarcity worldwide – but also gleans some useful lessons on how science can counter it. In many places, the economy continues to sputter along – but an Ecotrust study shows us that ecological restoration projects can be an economic bright spot. And while the US has been hit with the worst drought in 50 years, farmers are finding unexpected opportunities to market nutrient credits as a result. We summarize all these stories below.
 
We've also got lots of news on water quality trading, a successful groundwater replenishment project from Volkswagen in Mexico, a just-released guide to corporate water disclosure, and much more.
Here at Ecosystem Marketplace, we're busy on our upcoming State of Watershed Payments 2012 report, which is shaping up to be our most comprehensive catalog to date of payments for watershed services, water quality trading, and environmental water market programs. The report will track impacts, transaction values, and trends in program design worldwide.
We are committed to providing this valuable information free-of-charge, and for that reason we rely on sponsors to help us bring this information to the public. We're currently building a coalition of sponsors for the report. Click here to learn how your organization can be part of the report.
 
We're also putting out a last call for project developers to be included in the upcoming report. If you're working on a restoration or protection project that uses innovative financing to connect watershed stewards and beneficiaries, we want to hear from you. Send us an email or fill out our survey.
 
And finally, we're hiring! Ecosystem Marketplace is seeking a manager for our Latin American program. Read the description below or learn more here.
Happy reading,
— The Ecosystem Marketplace Team
For questions or comments, please contact newsletter@nullecosystemmarketplace.com
GENERAL

POLICY UPDATES

GLOBAL MARKETS

EVENTS