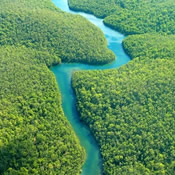 Ecosystem Marketplace returns from Katoomba XVIII in Beijing full of stories, podcasts and videoblogs on the meeting that focused on forests, water and people. Upon returning, EM turns its attention to new White House guidance on water investments and an innovative wastewater treatment wetlands project in the Colorado Delta.
This article was originally published in the Water Log newsletter. Click here to read the original.
Greetings Water Loggers!
4 June 2013 | We're back from Beijing after the 18th Katoomba meeting held earlier this month. With a focus on the links between forests, water, and people, we were spoiled for choice in covering the conference. Check out the 'EM Headlines' section in this newsletter for a selection of stories from the meeting – including  podcasts and videoblogs  of meeting participants sharing experiences, the latest on a  new source water protection effort for Beijing, and pieces giving you  background on what's been happening in China  and opportunities for  South-South learning  on watershed investments.
We also had the pleasure of coming home to an inbox full of good news on watershed investments around the world. On the policy front, in the US, new White House guidance  directs federal agencies to consider ecosystem services impacts in funding decisions for water infrastructure – which could be a very big deal for nature-based solutions. And the European Commission just released  an ambitious new strategy  to promote green infrastructure over traditional grey infrastructure options.
South of the border,  an innovative wastewater treatment wetlands project  is improving water quality, providing wildlife habitat, and increasing flows in the Colorado Delta region. We also have coverage of  Coca-Cola's efforts to go water neutral  and  new research  that's convincing dam operators in Latin America to take a second look at the importance of cloud forests.
For those of you with your toes in other markets, our latest State of the Voluntary Carbon Markets report just launched. We've tracked 4% global growth in voluntary demand for offsets and a 34% leap in the European markets. You can  learn more and get a copy of the report here.
Or just go ahead and dive on in to this month's water news. And remember that we love hearing from you – if you have a tip on an exciting new project or policy development (or even some bad news), don't forget to  send it our way.  
— The Ecosystem Marketplace Team
For questions or comments, please contact newsletter@nullecosystemmarketplace.com
 

 

CONTRIBUTING TO ECOSYSTEM MARKETPLACE

Ecosystem Marketplace is a project of Forest Trends a tax-exempt corporation under Section 501(c)(3).The non-profit evaluator Charity Navigator has given Forest Trends its highest rating (4 out of 4 stars) recognizing excellence in our financial management and organizational efficiency.



Additional resources