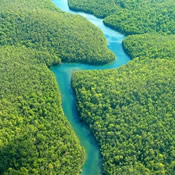 Ecosystem Marketplace's briefing for the business community on water risk, published this month, provides the sector with nature-based solutions to their water challenges while citing companies that have already met with success using this approach. Preparations are underway for two upcoming Katoomba events-one in Brazil in March and the other in Peru in April.
This article was originally published in the Water Log newsletter. Click here to read the original.
30 January 2014 | Greetings! This month we published our latest piece of market intelligence, a briefing for business on managing water risk at the landscape level. Building on data from the State of Watershed Payments report and our inventory of projects, we benchmark companies employing "nature-based" solutions to their water challenges.


Business leaders from Coca-Cola to SABMiller to Sony are experimenting with natural infrastructure investments that address many of the operational risks at the top of their lists – including supply disruptions and emerging regulations – while saving money, increasing resilience to climate and natural disaster shocks, and improving relations with local communities. We also talk about what our 'State of' findings mean for business: whether anticipated new regulations, unseen risks, or new sites and sectors of opportunity.
In this month's Water Log, we bring you an array of stories from around the world, including updates on benefit-sharing mechanisms in the Andes, forest investments in Europe, a new network for water quality trading in the US, and an opinion piece on the practical value of valuation exercises. As always, if you have a tip, a job announcement, or an issue you'd like to see featured in the Water Log, get in touch.

We're also busy preparing for two Katoomba events this spring. Katoomba XIX: Scaling Up Sustainable Commodity Supply Chains takes place on March 19-20 in Iguazu Falls, Brazil. The next month, we'll be in Lima, Peru for Katoomba XX: Climate, Forests, and Water: A Vision for Alignment in Tropical America on April 22-25. Stay tuned for updates and coverage in the lead-up to these meetings.
 
— The Ecosystem Marketplace Team
For questions or comments, please contact newsletter@nullecosystemmarketplace.com
GENERAL

POLICY UPDATES

GLOBAL MARKETS

EVENTS

CONTRIBUTING TO ECOSYSTEM MARKETPLACE

Ecosystem Marketplace is a project of Forest Trends a tax-exempt corporation under Section 501(c)(3).The non-profit evaluator Charity Navigator has given Forest Trends its highest rating (4 out of 4 stars) recognizing excellence in our financial management and organizational efficiency.



Additional resources