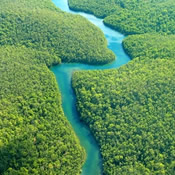 The Carbon Disclosure Project's Global Water Report 2013 reports more disclosure from companies than ever but also warns businesses are still not accounting for risks at the watershed level. Meanwhile the Ecosystem Marketplace water team is putting together a briefing for business on watershed investments.
This article was originally published in the Water Log newsletter. Click here to read the original.
24 November 2013 | Greetings! We're in the home stretch of the Skoll Foundation's Social Entrepreneurs Challenge – just two days to go! Right now, if you donate $30 or more, Skoll will match it. We're asking you to consider contributing: any funds that the Ecosystem Marketplace team raises through the Skoll Challenge will be dedicated to special projects, like in-depth reporting on the stories that matter to you.
 
If you've been thinking about supporting us, now is a great time to do so. Click here to help out – remember, right now, your donations are leveraged. (And as a 501(c)(3), contributions to us are tax-deductible.)
   
We're also excited about a new special briefing for business on watershed investments that we've been working on, to be released very soon. It's a deep dive into our data, benchmarking companies that are looking "beyond the fence" and their direct operations, to manage risk at a watershed scale. Stay tuned.
   
The Carbon Disclosure Project is also thinking at a landscape level: their new Global Water Report 2013 warns that most businesses still aren't using a "water stewardship" lens. Some of CDP's findings are encouraging: more businesses than ever disclosed for the report this year, and awareness of water risk exposure continues to grow. But action remains largely constrained to direct operations and a focus on efficiency: just three percent of companies are addressing risk at the watershed level, and only four percent within the supply chain.
   
Other news this month is more positive, including a nutrient mitigation bank and a water fund opening their doors (metaphorically speaking) in the United States, new economic analysis on green-grey infrastructure blends to protect against coastal storms, and local actors calling for greater inclusion in the EU's nascent green infrastructure strategy.
 
Keep up the good work,
— The Ecosystem Marketplace Team
For questions or comments, please contact newsletter@nullecosystemmarketplace.com
Forest Trends' Fundraising Challenge

Forest Trends' work doesn't grow on trees -" we rely on readers' generosity to help keep them standing.

Now through November 22, (and for the cost of a typical lunch!), donations to Forest Trends' Crowdrise campaign could leverage up to $1 million in matching awards through the Skoll Foundation's Social Entrepreneurship Challenge. Help Forest Trends expand our vital services to communities and experts on the front lines of ecosystem conservation. $10 will go a long way!
CONTRIBUTING TO ECOSYSTEM MARKETPLACE

Ecosystem Marketplace is a project of Forest Trends a tax-exempt corporation under Section 501(c)(3).The non-profit evaluator Charity Navigator has given Forest Trends its highest rating (4 out of 4 stars) recognizing excellence in our financial management and organizational efficiency.



Additional resources