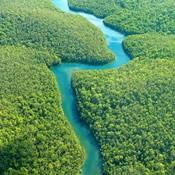 WRI's (World Resources Institute) new mapping tool that provides real-time data on water risks could help businesses and nations like South Africa and Canada, who are investing in natural infrastructure to protect their water supplies, manage their resources. Meanwhile, water stressed India is hoping to get some relief with a new initiative that plans to implement climate adaptation projects in 53 villages.
This article was originally published in the Water Log newsletter. Click here to read the original.
20 February 2013 | Water resources are under a lot of stress these days: climate change threats are growing, material risks to business are increasing, and financing for water infrastructure – green or otherwise – remains largely MIA.
None of this is news to our Water Log readers. And judging from the stories we bring you in this month's newsletter, it looks like the rest of the world – particularly decision-makers in the public and private spheres – is also waking up to the water crisis.
We've got stories about investments in natural infrastructure to protect water resources in places from Canada to South Africa. Efforts to better understand climate change impacts on natural systems are similarly under way, including a new report on climate impacts on coastal zones in the United States and efforts to implement climate adaptation projects in 53 villages in India.
 
 Better information on water risk is also the focus of a new mapping tool from the World Resources Institute that provides real-time global data on twelve water risk indicators, an overall risk index, and a range of future scenarios. The tool is already being used by McDonald's and Bank of America to assess their own water risk levels. Businesses got another new tool this month in the form of the new Carbon Trust Water Standard that recognizes companies taking steps to measure and manage their water use and impacts.
 
And finally, we have the story on a Rockefeller Foundation-funded effort that will provide seed capital and technical assistance for Community Investment Vehicles (CIVics) in eight cities across the United States to leverage private sector finance for urban green infrastructure – a new model we'll be sure to keep tabs on in the future.
Don't forget to scroll all the way to the bottom for upcoming events and job listings. As always, if you'd like to submit an event or job announcement,
shoot us an email
.
 
Happy reading!
— The Ecosystem Marketplace Team
For questions or comments, please contact newsletter@nullecosystemmarketplace.com
CONTRIBUTING TO ECOSYSTEM MARKETPLACE

Ecosystem Marketplace is a project of Forest Trends a tax-exempt corporation under Section 501(c)(3).The non-profit evaluator Charity Navigator has given Forest Trends its highest rating (4 out of 4 stars) recognizing excellence in our financial management and organizational efficiency.



Additional resources