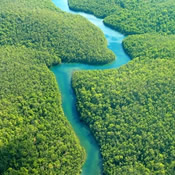 An interstate water quality trading program is preparing to start pilot trades while a new national draft in India would require water footprinting from industries. Meanwhile, Ecosystem Marketplace continues its data collecting for the State of the Watershed Payments Report, due out this fall.
This article was originally published in the Water Log newsletter. Click here to read the original.
23 August 2012 | Another busy month! Here at Ecosystem Marketplace, we've been hard at work gathering data for a new report, State of Watershed Payments 2012, due out later this fall. If you're a project developer, there's still time to submit data for the report, which will provide a global catalog of investments in watershed protection and their size, scope, and outcomes. We rely on your help to track the latest developments in water projects – click here to take our survey or send us an email for more information.
We're also currently building a coalition of sponsors for the report. Sponsorships are critical to our being able to track global trends in financing mechanisms for watershed conservation and offer this information free of charge. The State of Watershed Payments report is the only one of its kind to do so. Stay tuned for information about how to support the report.
On to the news! August's Water Log brings you quite a few nail-biters. A new draft national water policy in India would require water footprinting from industry, while regulators in the United States want to be able to use TMDLs to protect healthy watersheds, rather than waiting til water bodies are already impaired to act. Meanwhile, a potentially game-changing interstate water quality trading program is gearing up to begin pilot trades. All are stories we'll be sure to keep an eye on in the coming months.
Project developers will appreciate In It Together, a guide to designing water quality trading programs released this month, and a new project profile that suggests that cash payments might not always be the preferred form of compensation for land managers.
We do our best to bring the biggest stories in watershed investments every month to your inbox – and we want to hear from you too! Send us your tips on breaking stories, get up-to-the-minute updates, and connect with others in the community: follow us on Twitter, join our LinkedIn group, and if social media isn't for you, there's always the old-fashioned email.
Happy reading!
— The Ecosystem Marketplace Team
For questions or comments, please contact newsletter@nullecosystemmarketplace.com
CONTRIBUTING TO ECOSYSTEM MARKETPLACE

Ecosystem Marketplace is a project of Forest Trends a tax-exempt corporation under Section 501(c)(3).The non-profit evaluator Charity Navigator has given Forest Trends its highest rating (4 out of 4 stars) recognizing excellence in our financial management and organizational efficiency.
Please see our Reprint Guidelines for details on republishing our articles.
Additional resources