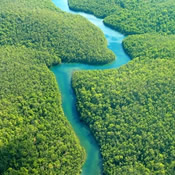 Forest Trends is hosting events covering water and carbon at the ACES and Ecosystem Markets conference happening in Florida from December 10th through the 14th. Also, Ecosystem Marketplace's State of Watershed Payments 2012 is due out in mid-January while sustainable plans have been agreed on for the Murray-Darling and Colorado River Basins.
This article was originally published in the Water Log newsletter. Click here to view the original.
Greetings!
11 December 2012 | We're dispatching this edition of the Water Log from Florida, where we're attending the ACES and Ecosystem Markets conference.
Forest Trends is hosting a number of great sessions at the conference this week to highlight our water and carbon work and connect with a larger community of practice. We hope if you're here, you'll join us for the following:
Workshop: Data-Driven Typology of Investments in Watershed Services Programs
5-6 pm, Tuesday, December 11th – Miami Room (2nd floor)
Katoomba Dialogues: Harnessing International Lessons for Watershed Payments in Peru
10:15 am – 12:00pm, Thursday, December 13th – Grand J-K (3rd floor)
Payments for Watershed Services: Tracking Performance Around the World
12:20 – 12:40 pm, Thursday, December 13th – Grand C-D (3rd floor)
State of the Voluntary Carbon Markets 2012: Developing Dimension
1:35 – 1:55 pm, Thursday December 13th – Grand A-B (3rd floor)
Click here for more information on these events, and be sure to come say hello!
You can also follow the conference at Eko-Eco.com, where we'll be live-blogging all week.
On to the newsletter! This Water Log is – can it be? – full of good news. It's been a policy-heavy month, with decision-makers reaching deals on sustainably managing the Murray-Darling and the Colorado River Basins, two of the world's most economically important watersheds. Both plans make use of market-based instruments to ensure that enough water stays in the river to support ecological health. We also have a proposed Blueprint strategy for safeguarding water resources in the EU and a draft bill in the US Congress that calls on the Army Corps of Engineers to focus on ecological infrastructure to protect coastal cities against storm events like the recent Hurricane Sandy.
Those of you with your toes in multiple markets will want to check out news on two items focusing on stacking and bundling carbon and water in New Zealand, and Maine USA – demonstrating how combining forces can deliver big benefits for ecosystems.
As always, shoot us an email if you have a tip for us or an issue or project you'd like to see us cover.
And finally, keep an eye out for our upcoming State of Watershed Payments 2012 report, scheduled for release in mid-January. Preliminary findings suggest this is going to be a good one. We'll keep you updated on the report launch as it rolls out.
Happy reading!
— The Ecosystem Marketplace Team
For questions or comments, please contact newsletter@nullecosystemmarketplace.com
CONTRIBUTING TO ECOSYSTEM MARKETPLACE

Ecosystem Marketplace is a project of Forest Trends a tax-exempt corporation under Section 501(c)(3).The non-profit evaluator Charity Navigator has given Forest Trends its highest rating (4 out of 4 stars) recognizing excellence in our financial management and organizational efficiency.
Additional resources