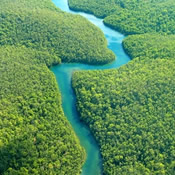 Ecosystem Marketplace will be hosting a webinar this month on the most up to date financing mechanisms for watershed conservation. Not long after, in May, the Katoomba Group will hold their 18th meeting in Beijing, China to investigate nature-based solutions to the water crisis. Meanwhile, Ecosystem Marketplace is running a story series that explores a watershed payment program in Kenya's Lake Naivasha Watershed.
This article was originally published in the Water Log newsletter. Click here to read the original.
21 March 2013 | Greetings! It's been a busy month for us (though maybe we say that every month).
In early March, we launched our new Spanish-language sister site to the Ecosystem Marketplace, Valorando Naturaleza. Some of the world's most innovative environmental financing mechanisms are coming out of Latin America, but coverage of these programs is often hard to come by, even within the region. To fix that, Valorando Naturaleza will act both as a regional hub for news and information and a conduit between the Spanish and English-speaking worlds. We invite you to take a look or forward to a colleague, and let us know what you think!
Ecosystem Marketplace's Kate Hamilton and Genevieve Bennett will also be participating in a webinar on March 24th, hosted by the Yale Center for Business and the Environment, to discuss the latest and greatest in financing mechanisms for watershed conservation and restoration around the world. You can register for the webinar here.
And finally, mark your calendars for Katoomba XVIII: Forests, Water, and People, to be held in Beijing, China on May 16th. Continuing the tradition of 17 previous international Katoomba meetings, Forests, Water, and People will gather leading experts, practitioners, policymakers, and investors from China and abroad to advance nature-based solutions to the water crisis for an urbanizing world.
 
It looks like you all have been busy as well – this month's newsletter spans the watershed investments world – from water restoration certificates and bundled carbon and water credits to the next generation in design and engineering for a world of rising seas and frequent floods. We also want to draw attention to our ongoing series on the Lake Naivasha watershed payment program in Kenya, where flower-growers, hoteliers, and others are compensating upstream landowners to reduce sedimentation. We take a close look at the whole process: what it takes to develop and implement a project like this.
Happy reading!
— The Ecosystem Marketplace Team
For questions or comments, please contact newsletter@nullecosystemmarketplace.com
GENERAL

POLICY UPDATES

GLOBAL MARKETS

EVENTS

CONTRIBUTING TO ECOSYSTEM MARKETPLACE

Ecosystem Marketplace is a project of Forest Trends a tax-exempt corporation under Section 501(c)(3).The non-profit evaluator Charity Navigator has given Forest Trends its highest rating (4 out of 4 stars) recognizing excellence in our financial management and organizational efficiency.