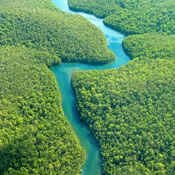 The likely winners of Australia's upcoming election pledge to cap instream buybacks and a Pennsylvania bill could promote unmarketable nutrient credits. Meanwhile, recommendations from Katoomba China have been recently released and a Chinese-language version of Watershed Connect launched.
This article was originally published in the Water Log newsletter. Click here to read the original.
27 June 2013 | Greetings! We're pleased to announce that Forest Trends and Ecosystem Marketplace have launched the Chinese-language version of Watershed Connect, a unique online platform connecting practitioners, policy-makers, and other stakeholders with information on efforts to invest in watershed protection and natural infrastructure.

Watershed Connect is a centralized platform to stay on top of the latest news and analyses, access key resources and tools, share projects, and research ongoing efforts on payments for watershed services, water funds, and other models to protect natural watershed services. The Chinese-language version of Watershed Connect brings critical information and analysis on experiences from around the globe to Chinese readers and expands the network of thousands of readers currently using the English-language and Spanish-language versions.

We've also released recommendations for scaling up investments in watershed services at the global, regional, and project level, developed by participants at May's Katoomba XVIII: Forests, Water and People in Beijing. Drawing on insights and observations during the meeting as well as experience from around the world, the recommendations reflect a truly global collection of expertise on catalyzing innovation and getting results when it comes to water.
As for the news, we've got a few stories of the scary kind, with the likely winners of Australia's next election pledging to cap instream buybacks, a bill in Pennsylvania that some claim will promote nutrient credits that are four times the current cost and currently unmarketable, and the Salvadoran government being sued for $400 million for refusing to issue permits to mining companies in order to protect their water supplies.
But we also find progress in business and the sciences: new case studies on building business resilience through green infrastructure are well worth a read, while other efforts around the world are contributing to a better understanding of critical forest-hydropower and terrestrial-marine linkages and designing interventions that work with these synergies, instead of against them.
As always, we want to hear from you! Get in touch via LinkedIn, Twitter, or email to let us know if you have a tip or an issue you'd like to see us cover. Happy reading…
— The Ecosystem Marketplace Team
For questions or comments, please contact newsletter@nullecosystemmarketplace.com
CONTRIBUTING TO ECOSYSTEM MARKETPLACE

Ecosystem Marketplace is a project of Forest Trends a tax-exempt corporation under Section 501(c)(3).The non-profit evaluator Charity Navigator has given Forest Trends its highest rating (4 out of 4 stars) recognizing excellence in our financial management and organizational efficiency.



Additional resources