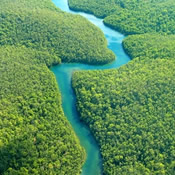 The past month saw movement in the green infrastructure space with an assessment on green infrastructure valuation tools and a $50 million fund slated to implement natural infrastructure upgrades in Chicago. Also this month, two papers from Forest Trends offering thoughts on the social impact assessment of investments in watershed services programs.
This article was originally published in the Water Log newsletter. Click here to read the original.
24 October 2013 | Greetings! A new pair of papers from Forest Trends offers initial thoughts on guidance for social impact assessment (SIA) for investments in watershed services (IWS) projects. In addition to the intended environmental outcomes, IWS can have unplanned social or equity impacts. The papers include recommendations for IWS-specific SIA, and a literature review on gender and social impacts related to watershed investments. We invite you to take a look here.  
As far as the news, well – sometimes you just have to stop and contemplate your navel. In China, despite success in cleaning up the Xin'an River, officials are wondering whether "eco-compensation" levels were really high enough. A fascinating study of PES projects in Africa suggests that a buyer-seller structure might only work for carbon: for watershed services, perhaps it's better to use a co-investment model that links different stakeholders and their respective assets (such finance, labor, or land). Another paper asks why valuation studies don't seem to be influencing policy.
"Natural" or "green" infrastructure has had a good few weeks, with a new guidance report on source water protection, an assessment of green infrastructure valuation tools, and a $50 million pot announced to green up Chicago.
We wanted to let you know that Valorando Naturaleza, sister site to Ecosystem Marketplace, will host the second webinar in its report launch series Considering Compensations in Latin America: Carbon Management, Communities And Corporate Responsibility on Friday Oct 25th at 12pm EST. The webinar focuses on green decision making and south-south marketplace developments and will be presented in Spanish.
VN.org brings together private sector speakers including Keyvan Macedo of Natura (Brazil), Carlos Berner of the Santiago Climate Exchange (Chile), Valentina Lira of Concha y Toro Winery (Chile) and Sylvia Chaves of Florex (Costa Rica), to discuss how forest carbon offsets fit into their strategies and what their experience has been engaging in such deals. Register here to reserve your place.
— The Ecosystem Marketplace Team
For questions or comments, please contact newsletter@nullecosystemmarketplace.com
Forest Trends' Fundraising Challenge

Forest Trends' work doesn't grow on trees – we rely on readers' generosity to help keep them standing.

Now through November 22, (and for the cost of a typical lunch!), donations to Forest Trends' Crowdrise campaign could leverage up to $1 million in matching awards through the Skoll Foundation's Social Entrepreneurship Challenge. Help Forest Trends expand our vital services to communities and experts on the front lines of ecosystem conservation. $10 will go a long way!
GENERAL

POLICY UPDATES

GLOBAL MARKETS

EVENTS

CONTRIBUTING TO ECOSYSTEM MARKETPLACE

Ecosystem Marketplace is a project of Forest Trends a tax-exempt corporation under Section 501(c)(3).The non-profit evaluator Charity Navigator has given Forest Trends its highest rating (4 out of 4 stars) recognizing excellence in our financial management and organizational efficiency.



Additional resources