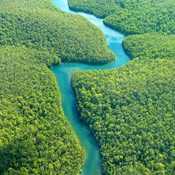 This month, Ecosystem Marketplace publisher Forest Trends launched an interactive map and database tracking and categorizing over 2,000 payments for ecosystem services in Brazil called the Brazilian Matrix of Ecosystem Services. In other news, a diverse national water quality trading network released a program-building guide.
This article was originally published in the Water Log newsletter. Click here to read the original.
29 June 2015 | Greetings! Brazil holds more than 12% of the world's freshwater, but citizens in some parts of the country – most notably São Paulo – have been suffering unprecedented drought this year, in part because of past failure to appreciate the linkages between forests and water supplies. In some quarters, however, the drought has led to a second look at the interlocking services Brazil's vast natural resources provide: the carbon that its forests keep locked up as they regulate water and the thousands of species of plants and hundreds of species of birds and freshwater fish in its Canada-sized Cerrado, among others.


Brazil's incredible natural heritage is the raison d'être for a boom in innovative market-based mechanisms to preserve the country's natural capital. We're excited to announce a new initiative launching this month from Ecosystem Marketplace publisher Forest Trends with the support of Brazilian non-profit organization Fundo Vale and the Good Energies Foundation: the Brazilian Matrix of Ecosystem Services (Matriz Brasileira de Serviços Ecossistêmicos), an interactive map and database of more than 2,000 payments for ecosystem services programs across Brazil categorized by type: water, carbon, biodiversity, sustainable agriculture, livestock, and bundled projects.
The Matrix, which has been more than three years in the making, can act as an information and decision-support tool for Brazilian market-makers: "It's essential for us to understand that all ecosystem services are interconnected if we're to develop a new and innovative market," said Mauricio Moura Costa, Executive Director of Bolsa Verde do Rio, an Brazilian organization promoting market mechanisms for environmental compliance.
In other news this month, leaders continue to connect the dots between agriculture, water risk, and supply chains. Start with a look at a new report from Ceres that examines the blind spots between corporations and the farmers in their supply chains. South African Breweries is chipping away at the problem with a new sustainable barley program; meanwhile a new initiative in Gujarat, India, will pay farmers to install solar-powered irrigation pumps in an effort to lessen pressure on groundwater.
Speaking of supply chains, we're hiring! Ecosystem Marketplace's Supply Change initiative is seeking a research assistant to help us track corporate commitments to reduce ecological impacts in supply chains.
Finally, water quality trading in the United States got a boost this month with a new publication from the National Network on Water Quality Trading for stakeholders wondering whether and how to build a trading program. The guide breaks down key decision points and design options, bringing much-welcomed clarity to a technical and complicated process. Learn more and get a copy here.
— The Ecosystem Marketplace Team
For questions or comments, please contact newsletter@nullecosystemmarketplace.com
GENERAL

POLICY UPDATES

GLOBAL MARKETS

EVENTS

CONTRIBUTING TO ECOSYSTEM MARKETPLACE

Ecosystem Marketplace is a project of Forest Trends a tax-exempt corporation under Section 501(c)(3).The non-profit evaluator Charity Navigator has given Forest Trends its highest rating (4 out of 4 stars) recognizing excellence in our financial management and organizational efficiency.



Additional resources