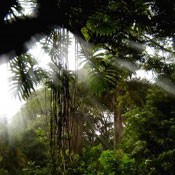 Key findings from Ecosystem Marketplace's State of the Forest Carbon Markets 2013 report, which was published last week, includes market growth by 9% while the global average price for forestry offsets decreased. However, it was still higher than prices paid by voluntary buyers across all offset project types. The report tracked forest carbon management over a land area larger than Ecuador.
This article was originally published in the Forest Carbon newsletter. Click here to read the original.
11 November 2013 Forest Trends' Ecosystem Marketplace is pleased to announce the launch of Covering New Ground: State of the Forest Carbon Markets 2013. The report is now freely available for download here!
Representing 162 projects in 58 countries, the report tracks forest carbon management over a land area larger than Ecuador. While market size grew 9% in 2012, the global average price for forestry offsets was $7.8/tonne – down from $9.2/tonne in 2011, but still higher than prices paid by voluntary buyers across all offset project types (average $5.9/tonne).
Key findings include:
The global markets for offsets from agriculture, forestry, and other land-use projects transacted 28 MtCO2e, a 9% increase from 2011. Market value reached $216 million in 2012, 8% shy of 2011's record $237 million. Forestry offsets' average price fell slightly to $7.8/tonne (tCO2e).
Voluntary offset buyers drove 95% of all market activity (27 MtCO2e) and 92% of value ($198 million), as corporate buyers renewed or pursued new climate targets, while buyers in California and Australia sought forestry offsets to prepare for compliance carbon markets.
This report series has tracked a cumulative 134 MtCO2e of offsets transacted from forest carbon projects, valued at an estimated $0.9 billion over time from the carbon management of 26.5 million hectares.
The private sector remained the largest source of demand, responsible for 19.7 MtCO2e or 70% of market activity. Two out of every three offsets were sold to multinational corporations. Businesses were motivated by offset-inclusive corporate social responsibility (CSR) activities, or to "demonstrate climate leadership" in their industry or to send signals to regulators.
Demand for offsets from A/R projects remained high (8.6 MtCO2e) but fell from the prior year, while REDD offset demand grew for the first time since the project type's all-time high in 2010.
The forest carbon markets extended project development to 58 countries, up from 54 locations in 2011. North American projects generated one quarter of all offsets transacted, while project developers in the Global South transacted half of overall market share.
Projects seeking or achieving certification to the Verified Carbon Standard (VCS) transacted 15.7 MtCO2e, or 57% of all market activity. Around 12.2 MtCO2e of these sales were from projects seeking dual certification to VCS and the Climate, Community and Biodiversity Standards (CCB Standards).
Read about these findings and more here!
If you appreciate this kind of freely available, market-enabling research that only Ecosystem Marketplace provides, consider stepping up as a Supporting Subscriber of our news briefs. Now through November 21st, organizations that contribute $150 to EM will receive a listing in our news briefs (reaching >13,000 subscribers) for one year with a link to the organization's website and a special "thank you" in our next news brief.
Through November 21st, Forest Trends' Ecosystem Marketplace has the opportunity to double the value of each contribution, as the Skoll Foundation has agreed to match contributions for top fundraisers through its Social Entrepreneurs Challenge 2013. Help us make the top of the list – become a Supporting Subscriber today! A special thanks to those organizations that recently contributed to our challenge, including: Carbon Verde, Climate Friendly, ClimateCare, EcoPlanet Bamboo, Impact Carbon, Lee International Carbon Trading Consultants, Numerco, and Tierra Resources LLC.
 
These and other stories from the forest carbon marketplace are summarized below, so keep reading!
—The Ecosystem Marketplace Team
If you have comments or would like to submit news stories, write to us at general@nullforestcarbonportal.com.
Forest Trends' Fundraising Challenge

Forest Trends' work doesn't grow on trees – we rely on readers' generosity to help keep them standing.

Now through November 22, (and for the cost of a typical lunch!), donations to Forest Trends' Crowdrise campaign could leverage up to $1 million in matching awards through the Skoll Foundation's Social Entrepreneurship Challenge. Help Forest Trends expand our vital services to communities and experts on the front lines of ecosystem conservation. $10 will go a long way!
ABOUT THE FOREST CARBON PORTAL

The Forest Carbon Portal provides relevant daily news, a bi-weekly news brief, feature articles, a calendar of events, a searchable member directory, a jobs board, a library of tools and resources. The Portal also includes the Forest Carbon Project Inventory, an international database of projects including those in the pipeline. Projects are described with consistent 'nutrition labels' and allow viewers to contact project developers.

ABOUT THE ECOSYSTEM MARKETPLACE

Ecosystem Marketplace is a project of Forest Trends, a tax-exempt corporation under Section 501(c)3. This newsletter and other dimensions of our voluntary carbon markets program are funded by a series of international development agencies, philanthropic foundations, and private sector organizations. For more information on donating to Ecosystem Marketplace, please contact info@nullecosystemmarketplace.com.



Additional resources