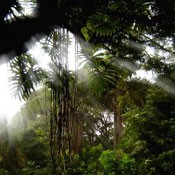 Three developed countries have collaborated on a new project that will funnel money on a subnational level to REDD activities and promote a landscape level of forest management. Administered by the World Bank, this new initiative differs from previous World Bank funding in that it focuses on the jurisdictional level. It will begin with Ethiopia's Oromia state.
This article was originally posted in the Forest Carbon newsletter. Click here to read the original.
9 December 2013 | Norway, the United States and the United Kingdom unveiled a new finance initiative at the Conference of Parties (COP19) in Warsaw. The Initiative for Sustainable Forest Landscapes (BioC ISFL) will initially select between four and six jurisdictions and funnel between $30 million and $50 million into each of them in the next year – beginning with Ethiopia's Oromia state.  
While most of the funds themselves had already been committed for REDD+ (Reducing Emissions from Deforestation and Degradation plus pro-forest activities), governments had not previously offered details on how they will be deployed. The new initiative answers that question, and is designed to support the preconditions that companies say they need if they're to develop sustainable supply chains.
 
While no states have been named beyond Oromia, there is a strong likelihood of participation from Colombia, Indonesia and Guyana as all three countries are developing the kind of carbon accounting infrastructure that can handle performance-based funding, and all have leaders who seem committed to saving their forests.
 
The BioC ISFL will run under the BioCarbon Fund, which is part of the World Bank and has been piloting REDD+ readiness initiatives since 2005. The new initiative differs in that it focuses on the jurisdictional level and aims to ease company participation. In another scenario, the funds could be used to provide insurance for projects that are climate-safe but economically risky.
 
When asking NGOs for a reaction after the announcement, Pipa Elias, REDD+ expert for the Union of Concerned Scientists, said, "The amount of new money is lower than I had expected or hoped for, so I'm a bit disappointed on that front, but it's encouraging to see that they're laying the foundation for the private sector, and on a large scale." Josefina Brana-Varela, currently of the World Wildlife Fund, added, "For me, it's really good that the donors are coordinating, because that means their initiatives are complementary."
 
A special thanks to our new Supporting Subscribers: Bosques Amazonicos (BAM), ERA Ecosystems Services, Forest Carbon Group, Plan Vivo Foundation, Proyecto Mirador, and South Pole Carbon Asset Management.
—The Ecosystem Marketplace Team
If you have comments or would like to submit news stories, write to us at general@nullforestcarbonportal.com.
ABOUT THE FOREST CARBON PORTAL

The Forest Carbon Portal provides relevant daily news, a bi-weekly news brief, feature articles, a calendar of events, a searchable member directory, a jobs board, a library of tools and resources. The Portal also includes the Forest Carbon Project Inventory, an international database of projects including those in the pipeline. Projects are described with consistent 'nutrition labels' and allow viewers to contact project developers.

ABOUT THE ECOSYSTEM MARKETPLACE

Ecosystem Marketplace is a project of Forest Trends, a tax-exempt corporation under Section 501(c)3. This newsletter and other dimensions of our voluntary carbon markets program are funded by a series of international development agencies, philanthropic foundations, and private sector organizations. For more information on donating to Ecosystem Marketplace, please contact info@nullecosystemmarketplace.com.
Additional resources