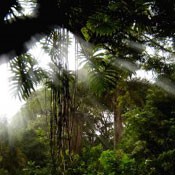 The REDD Offsets Working Group (ROW) has released its anticipated recommendations on international REDD+ credits' inclusion in the California cap-and-trade system. Meanwhile, Ecosystem Marketplace debunked a report appearing the next day claiming that the Chiapas government had rescinded support for REDD+ and another EM fact-finding mission overturned a false Greenomics Indonesia report.
This article was originally published in the Forest Carbon newsletter. Click here to read the original.
27 July 2013 | After two years of consultations with indigenous leaders, environmentalists, and government representatives, the REDD Offsets Working Group (ROW) has  released its final recommendations  on how to work international REDD+ offsets into California's cap-and-trade program.
Last week, nearly 50 major corporations, indigenous groups and global NGOs signed a  letter of support  of the recommendations. Chief Almir of the Surui tribe, leader of the first indigenous people to generate REDD+ credits under the Verified Carbon Standard, believes REDD can be viewed as a way of bridging collective indigenous values and capitalist non-indigenous values.
"In the indigenous vision, the standing forest has intrinsic value that we collectively must protect, but in the vision of the non-indigenous, capitalist world, the standing forest will only be respected when it yields a result, a payment, some sort of deliverable," says Almir while  emphasizing the importance of safeguards  for projects involving indigenous people.
Ecosystem Marketplace outlines the social and environmental safeguards portion of the recommendations  here, which call on California to ban credits that don't conform to international principles and to retain the right to suspend recognized credits if they are later found to be out of compliance.
At a time when California is looking to finalize its climate policy, the fate of these recommendations could have significant impact on both the international REDD+ market and the appetite to support REDD+ in the United States, where momentum is building not only in California but also at the national level  with President Obama's recent pledge to REDD+  in his Climate Action Plan.
Of the two states thus far considering to feed REDD+ credits into California's cap-and-trade scheme – Chiapas, Mexico and Acre, Brazil – a day after the ROW recommendations came out, the State of Chiapas was  inaccurately reported by Amigos de la Tierra México, the Mexican affiliate of Friends of the Earth, to have canceled its REDD+ program.  The Chiapas state government has since then released a  response  reaffirming its commitment to jurisdictional REDD+.
We ran into another instance of misrepresentation across the Pacific, where an Indonesian organization called Greenomics  claimed  that the Rimba Raya Conservation Project – one of the world's largest REDD projects, being developed by Infinite Earth in accordance with Verified Carbon Standard (VCS) guidelines – had failed to secure proper tenure rights and overstated the amount of forestland preserved. Upon further investigation, Ecosystem Marketplace  found both claims to be false  after learning of Greenomics' selective referencing of government documents.
With the redesign of our  Forest Carbon Portal  and continued expansion of our  Spanish language sister website, Ecosystem Marketplace hopes to continue to bring you this kind of fresh information in the second half of 2013! If you value what you read, consider supporting Ecosystem Marketplace's Carbon Program by contacting  Molly Peters-Stanley. We're $75k away from being able to publish this year's State of the Forest Carbon Markets report in a few months' time – can we count on your support?
For those of you developing forest carbon offset projects, we invite you to describe your project and any 2012 transactions by participating in our survey before July 31, 2013. This will be the final deadline for organizations wishing to take part in this year's State of the Forest Carbon Markets report. Submit your data  here!
—The Ecosystem Marketplace Team
If you have comments or would like to submit news stories, write to us at general@nullforestcarbonportal.com.
 

ABOUT THE FOREST CARBON PORTAL

The Forest Carbon Portal provides relevant daily news, a bi-weekly news brief, feature articles, a calendar of events, a searchable member directory, a jobs board, a library of tools and resources. The Portal also includes the Forest Carbon Project Inventory, an international database of projects including those in the pipeline. Projects are described with consistent 'nutrition labels' and allow viewers to contact project developers.

 

ABOUT THE ECOSYSTEM MARKETPLACE

Ecosystem Marketplace is a project of Forest Trends, a tax-exempt corporation under Section 501(c)3. This newsletter and other dimensions of our voluntary carbon markets program are funded by a series of international development agencies, philanthropic foundations, and private sector organizations. For more information on donating to Ecosystem Marketplace, please contact info@nullecosystemmarketplace.com.



Additional resources