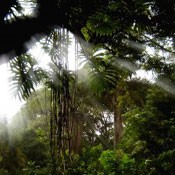 This week, the REDD world is reflecting on the conclusions from Nagoya and preparing for the upcoming talks in Cancun.   The news from the past two weeks has spanned coverage of everything from the forest world's concern over corruption to the positive development of national REDD efforts to a new way to assess forest carbon stores.   It is the latest in the world of Forest Carbon.
NOTE: This article has been reprinted from Ecosystem Marketplace's Forest Carbon Newsletter. You can receive this summary of global news and views from the world of Voluntary carbon automatically in your inbox every two weeks by clicking here.
3 November 2010| Last Friday in Nagoya, Japan, policymakers convened from around the world concluded the tenth Conference of the Parties (COP 10) to the UN Convention on Biological Diversity. Although biodiversity conservation has been widely-touted as a REDD "co-benefit," efforts to link up aid from developed countries under the biodiversity convention and a REDD mechanism under the climate convention seem to be quickly falling out of reach.
Revisiting a perennial concern in forest governance and markets, more news highlighting corruption concerns emerged this month, mostly on the enforcement front.   The European Union finally codified a regulation banning illegal timber from the EU market.   And in Liberia, a carbon offset scandal that erupted this summer is moving towards resolution with allegations flying against an array of government officials while trials for the alleged perpetrators begin to be set.
National REDD efforts are also continuing to make headway.   In Indonesia, a more concrete commitment to the logging moratorium – part of the $1B agreement with Norway – was indicated by the Indonesian government.   The moratorium is even reportedly beginning to be seen in a more favorable light by local businesses.   Brazil is also looking forward to incorporating more techno-fixes to help resolve its deforestation trajectory.   From microchips embedded in trees to satellites that see through clouds, we're witnessing steps into what seemed like science fiction just months or years ago.
Wrapping up Down Under, New Zealand calls out for public comment on a new method for forest owners to assess the carbon stored in post-1989, or "Kyoto" forests.   Neighboring Australia also shows up in the headlines as environmental consulting firm Perenia Pty signed Australia's first assigned amount units (AAU) carbon trade agreement with forest sink developer Carbon Conscious Ltd.
All in all, we're certainly seeing no shortage of news and shenanigans as we ramp up to Cancún.   Read about all these stories and more in Ecosystem Marketplace's latest issue of the Forest Carbon Newsletter below.
—The Ecosystem Marketplace Team
If you have comments or would like to submit news stories, write to us at general@nullforestcarbonportal.com.
Additional resources