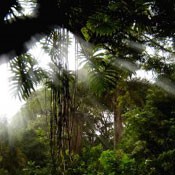 Thirteen governors from rainforest states signed the Rio Branco Declaration, a commitment to cut deforestation 80% by 2020, if funding for avoided deforestation (REDD) materializes. Brazil, the country receiving the most performance-based payments from climate funder Norway, has successfully prevented the clearing of 6.2 million hectares of forest between 2007 and 2013, but many other countries are on the edge of deforesting… or not.
This article was originally posted in the Forest Carbon newsletter. Click here to read the original.
21 August 2014 | Forget presidents, kings and queens – governors may be the ones leading the fight to reduce deforestation, state by state. At last week's Governors' Climate and Forests (GCF) Task Force meeting in Acre, Brazil, 13 of them penned the Rio Branco Declaration, named after the Amazonian city they met in. Their commitment? To cut deforestation rates in their jurisdictions 80% by 2020 – a move that would prevent four billion tonnes of carbon dioxide emissions (tCO2e) from entering the atmosphere.
But they can't do it for free. Deforestation, after all, is largely about economics, and lucrative oilseed crops – mainly palm oil in Indonesia and soybeans in Brazil – are driving deforestation in key rainforest countries. GCF states say that they can slow forest clearing and degradation if performance-based funding for reducing deforestation (REDD) is available, whether through carbon markets or other performance-based payment mechanisms.
So far, this financing has been hard to come by, though many developed nations have promised it. The Rio Branco Declaration explains that the six Brazilian GCF member states have already reduced deforestation 70% between 2006 and 2012, avoiding three billion tCO2e of emissions, but that GCF jurisdictions have seen little of the $7.3 billion pledged for REDD+ by donor governments since 2009.
"Humanity is in grave danger over the destruction of the Amazonia – the climate regulator of the planet," Edwin Vasquez, the leader of the Huitoto People of Peru and Coordinator General of COICA (Coordinator of Indigenous Organizations of the Amazon River Basin), said at the meeting. "The 5,000 indigenous communities continue to protect the forests and preserve our cultures and the world, as we have done for thousands of years. We are the proprietors of 210 million hectares, covering 25% of the Amazon, which calls for an urgent proposal—'Indigenous Amazonia for Humanity,' a $210 million project addressing the fact that climate funds have not reached our communities."
The GCF is a collaboration of 22 states and provinces from Brazil, Indonesia, Mexico, Nigeria, Peru, Spain and the United States. On the buy-side, the US state of California is considering the inclusion of REDD offsets in its cap-and-trade program, which would be the first significant compliance market demand for offsets from avoided deforestation.
"Without action to reduce emissions from the deforestation of tropical forests, we are missing one of the keys to mitigating climate change," said California Air Resources Board (ARB) Chairman Mary Nichols. "We think the sector-based offset crediting approach being evaluated for jurisdiction-wide programs, like the one in Acre, is the next frontier for California's carbon offset program."
Here at Forest Trends' Ecosystem Marketplace, we're tracking these developments closely – and putting out a last call to forest project developers to respond to our survey informing the State of the Forest Carbon Markets 2014 report. The survey is available in English HERE and in Spanish AQUÍ. Questions? Email us.
More news from the forest carbon marketplace is summarized below, so keep reading!
—The Ecosystem Marketplace Team
If you have comments or would like to submit news stories, write to us at general@nullforestcarbonportal.com.
ABOUT THE FOREST CARBON PORTAL

The Forest Carbon Portal provides relevant daily news, a bi-weekly news brief, feature articles, a calendar of events, a searchable member directory, a jobs board, a library of tools and resources. The Portal also includes the Forest Carbon Project Inventory, an international database of projects including those in the pipeline. Projects are described with consistent 'nutrition labels' and allow viewers to contact project developers.

ABOUT THE ECOSYSTEM MARKETPLACE

Ecosystem Marketplace is a project of Forest Trends, a tax-exempt corporation under Section 501(c)3. This newsletter and other dimensions of our voluntary carbon markets program are funded by a series of international development agencies, philanthropic foundations, and private sector organizations. For more information on donating to Ecosystem Marketplace, please contact info@nullecosystemmarketplace.com.



Additional resources