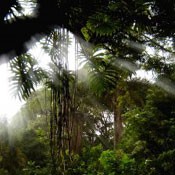 This article was originally posted in the Forest Carbon newsletter. Click here to read the original.
3 June 2014 | Forest Trends' Ecosystem Marketplace launched the Executive Summary of our State of the Voluntary Carbon Markets 2014 report last week to a full house at Carbon Expo in Cologne, Germany. In the context of a market in which some projects struggled to find buyers, projects that reduce emissions from deforestation and forest degradation (REDD) more than doubled their transaction volumes from 2012 to 22.6 million tonnes of carbon dioxide equivalent (tCO2e) in 2013 – enough to offset the annual emissions from energy production in a small country such as the Dominican Republic or Croatia.
The market value of REDD also increased by 35% in 2013, to $94 million, buoyed by a significant and historic transaction between the German development bank KfW (Kreditanstalt für Wiederaufbau) and Brazil's Acre state. This growth came at an average price of $4.2/tCO2e, down from $7.4/tCO2e in 2012 – though less than a handful of REDD project developers sold REDD offsets at under $3/tCO2e.
"Some of the larger [REDD] projects are able to unload a significant quantity of offsets at a very low price to help with their cash flow issues," explained Brian McFarland of Maryland-based CarbonFund.org, in an interview with Ecosystem Marketplace. McFarland noted that he's hoping for a compliance signal from California or (longer-term) China or a forward market commitment by a multi-lateral agency like the United Nations' REDD program or the World Bank's Forest Carbon Partnership Facility.
Other REDD projects are holding their ground on price.
"We continue to believe that REDD+ projects really shouldn't be looked at the same as other projects; they really do have a minimum threshold if you want to have a good REDD+ project that's making the right kind of investment in communities," said Mike Korchinsky, President of Wildlife Works, a leading REDD project developer in Africa. "There is a minimum cost and therefore there is a minimum price."
In March, the Althelia Climate Fund made its long-awaited first investment in a REDD+ project, supporting Wildlife Work's Kasigua Corridor project in Kenya's Taita Hills to the tune of $10 million. And, just last week in Cologne, US Secretary of State John Kerry announced that the US Agency for International Development (USAID) will guarantee the Althelia Climate Fund at $133.8 million in order to de-risk forest conservation and sustainable agriculture projects.
Stephen Matzie, Investment Officer for the Development Credit Authority (DCA) at USAID, commented on the announcement: "REDD is a good place for us to work because there are some huge challenges, some of them just in terms of how little upfront financing there is to develop projects, the length of time it takes to develop projects that can be implemented and earn credits and prove sustainability over time and, of course, the challenges of being solely in the voluntary markets at this point," he said.
Other forest carbon offsets, including those from afforestation/reforestation, improved forest management, and agro-forestry projects accounted for an additional 4.1 million in transactions and $37 million in value as these project types maintained above-average pricing, according to the State of data.
We hope that you'll join us either in person or via webcast for the launch of the full State of the Voluntary Carbon Markets 2014 report on June 24 in Washington DC from 4:30-6:00 EDT. Details to follow.
More stories from the forest carbon marketplace are summarized below, so keep reading!
—The Ecosystem Marketplace Team
If you have comments or would like to submit news stories, write to us at general@nullforestcarbonportal.com.
ABOUT THE FOREST CARBON PORTAL

The Forest Carbon Portal provides relevant daily news, a bi-weekly news brief, feature articles, a calendar of events, a searchable member directory, a jobs board, a library of tools and resources. The Portal also includes the Forest Carbon Project Inventory, an international database of projects including those in the pipeline. Projects are described with consistent 'nutrition labels' and allow viewers to contact project developers.

ABOUT THE ECOSYSTEM MARKETPLACE

Ecosystem Marketplace is a project of Forest Trends, a tax-exempt corporation under Section 501(c)3. This newsletter and other dimensions of our voluntary carbon markets program are funded by a series of international development agencies, philanthropic foundations, and private sector organizations. For more information on donating to Ecosystem Marketplace, please contact info@nullecosystemmarketplace.com.