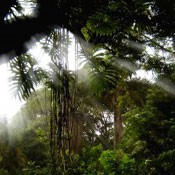 Katoomba XX kicks off on Earth Day in Lima, Peru, and just in time – new UN Food and Agricultural Organization data shows that emissions from agriculture, forestry and fisheries have nearly doubled over the past half century. At the ninth meeting of the Carbon Fund, efforts to reduce emissions from deforestation did, however, make some headway, with four nations' REDD+ proposals approved. This unlocks a potential $50 million to $70 million in financing for each country.
This article was originally published in the Forest Carbon newsletter. Click here to read the original.
 24 April 2014 | Forest Trends' Katoomba events are known for bringing people who don't always talk to each other – soy tycoons and environment ministers, for instance – together to discuss practical solutions to major ecosystem services problems. The twentieth event, which begins today in Lima, Peru, has this kind of ambitious agenda. The theme is alignment. Attendees will consider how climate change, forests, water and people are deeply intertwined, and how payment for ecosystem services (PES) strategies addressing these issues must align, too. Current events in Peru provide an interesting (albeit frustrating) backdrop: The country's comprehensive PES law, in development for six years now, was finally slated to be formally debated before the National Congress last week – but that debate has been delayed yet again.  
Katoomba speakers will include Manuel Pulgar-Vidal, Peru's Minister of Environment; Almir Surui, the Chief of the Paiter Surui people in Brazil; Rachel Kyte, World Bank Vice President and Special Envoy for Climate Change; Cesar Augusto Garcia, Director of Science and Technology at the Colombian Cattlemen Federation; and many more diverse actors from the public, private, and non-profit sectors. Discussions from the event will lead into the twentieth United Nations Framework Convention on Climate Change's (UNFCCC) Conference of the Parties, to be held in Lima in December.
   
Conversations between conservationists and big agriculture, policymakers and business executives are especially urgent in light of new UN Food and Agricultural Organization (FAO) data that shows emissions from agriculture, forestry and fisheries have nearly doubled over the past half century and could increase another 30% by 2050. The largest source of agricultural greenhouse gas (GHG) emissions is livestock methane (from belches), followed by synthetic fertilizers, methane releases in rice paddies, and savannah-burning. Net GHG emissions due to land use change (mainly forests converting to other land uses) fell almost 10% between 2001 and 2010, but still averaged four billion tonnes of carbon dioxide equivalent (tCO2e) per year.
   
Efforts to reduce emissions from deforestation did, however, make some headway during the ninth meeting of the Carbon Fund held in Belgium from April 9 to 11. Launched in 2011 by the World Bank's Forest Carbon Partnership Facility, the Carbon Fund is meant to provide performance-based payments to countries that make significant progress in Reducing Emissions from Deforestation and Degradation of forests (REDD). Four of those countries' REDD+ proposals – Nepal's, Ghana's, Mexico's, and the Democratic Republic of Congo's (DRC) – were selected at the meeting, and may each receive between $50 million and $70 million in financing. Mexico's National Forestry Commission has already signed an agreement to receive $3.8 million. Chile's and the Republic of Congo's proposals were not selected this time around, but they'll have another chance in June when the Carbon Fund will consider five to seven more countries vying for their available $465 million.
   
More stories from the forest carbon markets are summarized below, so keep reading!
—The Ecosystem Marketplace Team
If you have comments or would like to submit news stories, write to us at general@nullforestcarbonportal.com.
ABOUT THE FOREST CARBON PORTAL

The Forest Carbon Portal provides relevant daily news, a bi-weekly news brief, feature articles, a calendar of events, a searchable member directory, a jobs board, a library of tools and resources. The Portal also includes the Forest Carbon Project Inventory, an international database of projects including those in the pipeline. Projects are described with consistent 'nutrition labels' and allow viewers to contact project developers.

ABOUT THE ECOSYSTEM MARKETPLACE

Ecosystem Marketplace is a project of Forest Trends, a tax-exempt corporation under Section 501(c)3. This newsletter and other dimensions of our voluntary carbon markets program are funded by a series of international development agencies, philanthropic foundations, and private sector organizations. For more information on donating to Ecosystem Marketplace, please contact info@nullecosystemmarketplace.com.
Additional resources