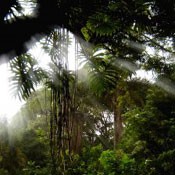 A new Forest Trends brief compares and contrasts case studies from two villages in Vietnam to highlight the implications of illegal logging on REDD+ and FLEGT as well as the role of community participation and land tenure agreements in forest governance. Meanwhile the Ecosystem Marketplace Carbon Program gears up for its final round of data collection in preparation for the 2013 State of the Forest Carbon Markets report.
This article was originally published in the Forest Carbon newsletter. Click here to read the original.
15 July 2013 | Hot off the Forest Trends press, a  new brief  explores the implications of small-scale illegal logging on REDD+ and Forest Law Enforcement, Governance and Trade (FLEGT) initiatives in Vietnam.
The brief highlights the rationale of clear and secure tenure rights for local people living near forests containing timber – not just to occupy them, but also to sustainably harvest forest assets if they so choose.  Without these rights, locals are excluded from forest benefits and more likely to illegally log. According to the brief, "increasing resources dedicated to law enforcement in the absence of changes in incentive structures" is not enough to stop illegal logging.

To contrast what hasn't worked in  forest governance in small-scale forest management  and what has worked, Forest Trends presents case studies from the villages of Ban Y and Phuc Minh (whose names have been changed) in Hoa Binh and Binh Dinh provinces. In Ban Y, forest tenure rights granted to villagers by the government excluded tree harvesting rights. As a result, community members were barred from extracting timber from these forests, despite their historical claims on the forests, legal tenure rights, and livelihood needs. Harmful illegal logging ensued, with Ban Y villagers taking on the largest risk and least benefits while government officials, brokers, and traders captured most of the benefits.
Conversely in the village of Phuc Minh, while villagers received similar tenure rights as in Ban Y, their forest was not under the prohibitive protection category and instead received support from the German Development Bank for a community forestry project that combined forest protection with sustainable harvest techniques. Villagers actively participated in decision-making on how to distribute timber revenues and remaining harvested timber, prioritizing community members in need and those who complied with forest protection responsibilities.
The lessons learned from Vietnam's forest governance experience have direct implications for FLEGT and REDD+, whose missions both prioritize actions against illegal logging. For forest carbon in particular, the brief stresses that the effectiveness of community-based REDD+ efforts relies on the reorientation of law enforcement to support rather than oppose small-scale forest management. In addition, the brief says the design of REDD+ should combine performance-based payments for forest protection with active use and management by smallholders, since REDD+ payments alone are unlikely to provide sufficient incentives for forest protection.
Learn more about Forest Trends' recommendations on FLEGT and REDD+ in Vietnam  here and keep reading below for the inside scoop on other important forest carbon developments!
Here at Ecosystem Marketplace, we are in the final stages of data collection in preparation for our 2013 State of the Forest Carbon Markets report. If your organization has developed forest carbon projects for the voluntary or compliance carbon market in 2012, we invite you to describe your project and any 2012 transactions by participating in our survey before July 31, 2013. This will be the final deadline for organizations wishing to take part in this year's report.  
Forest carbon project developers that provide project-level information – whether or not you have transacted credits yet – can also choose to have their project profiled as the Forest Carbon Portal's Featured Project. You can also specify your preferred level of confidentiality – from completely open (including transaction prices and volumes) to completely confidential. Create a profile and submit your responses here!
—The Ecosystem Marketplace Team
If you have comments or would like to submit news stories, write to us at general@nullforestcarbonportal.com.
 

ABOUT THE FOREST CARBON PORTAL

The Forest Carbon Portal provides relevant daily news, a bi-weekly news brief, feature articles, a calendar of events, a searchable member directory, a jobs board, a library of tools and resources. The Portal also includes the Forest Carbon Project Inventory, an international database of projects including those in the pipeline. Projects are described with consistent 'nutrition labels' and allow viewers to contact project developers.

 

ABOUT THE ECOSYSTEM MARKETPLACE

Ecosystem Marketplace is a project of Forest Trends, a tax-exempt corporation under Section 501(c)3. This newsletter and other dimensions of our voluntary carbon markets program are funded by a series of international development agencies, philanthropic foundations, and private sector organizations. For more information on donating to Ecosystem Marketplace, please contact info@nullecosystemmarketplace.com.



Additional resources