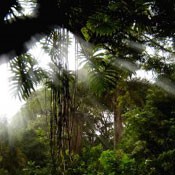 The Darkwoods Forest Carbon Project controversy continues to unravel, revealing essential documents and highlighting the role of government oversight in future carbon offset project developments. Meanwhile, California Governor Jerry Brown's approval of the proposal to tie California's cap-and-trade scheme to Quebec's builds capacity for prospective linkages between project-level activities like REDD+ and established emissions trading schemes.
This article was originally published in the Forest Carbon newsletter. Click here to read the original.
16 April 2013 | In Ecosystem Marketplace's last issue of Forest Carbon News, we  fielded a few concerns  surrounding the recent audit report released by British Columbia's Auditor General that challenged the baseline and additionality of the Nature Conservancy of Canada's (NCC) Darkwoods Forest Carbon Project.

Since then, we have released the  next articlehere  and here) showing that NCC had not only considered carbon credits but actively sought partners to buy them – written more than a year before the purchase. The auditor's team never asked to see them.
Christian Schadendorf – who advised the former Darkwoods owner on his sale of the property – stated that they had "had calls from several timberland buyers who would qualify as 'liquidation loggers,' but NCC got there first." This is in sharp contrast to the Auditor General's report finding that no companies interested in a "liquidation logging scenario" had bid on the property prior to sale.
The overall episode offers lessons for cases down the line where government oversight is necessary in vetting carbon offset projects. Darkwoods' experience may be a relatively isolated occurrence for now, but government oversight is becoming an increasingly relevant issue in the forest carbon arena – particularly as we see momentum building for jurisdictional linkages and jurisdictional REDD+ approaches that wed broad-based government targets with project-level activities.
Read our coverage  
here
, and stay tuned for the next piece in the series as we delve deeper into the Darkwoods rabbit hole and look at how the Darkwoods deal came to be, what the neighbors actually do, and what the baseline models say.  
Keep reading below for more forest carbon market news items, hot off the presses. Here in Washington, DC, we are busy aggregating data for this year's State of the Forest Carbon Markets Report. Don't forget to check the  Forest Carbon Portal  on a regular basis for featured survey respondents and their project profiles. If you have not already responded to this year's survey, please contact  Daphne Yin  ASAP!
A big thank you to the following organizations that have most recently contributed data to this year's State of the Forest Carbon Markets Report, including:  Bosques Amazí³nicos, Conservation Fund, Finite Carbon, Future Camp, Green Energy Corporation, and  Offsetters.
—The Ecosystem Marketplace Team
If you have comments or would like to submit news stories, write to us at general@nullforestcarbonportal.com.
ABOUT THE FOREST CARBON PORTAL

The Forest Carbon Portal provides relevant daily news, a bi-weekly news brief, feature articles, a calendar of events, a searchable member directory, a jobs board, a library of tools and resources. The Portal also includes the Forest Carbon Project Inventory, an international database of projects including those in the pipeline. Projects are described with consistent 'nutrition labels' and allow viewers to contact project developers.

ABOUT THE ECOSYSTEM MARKETPLACE

Ecosystem Marketplace is a project of Forest Trends, a tax-exempt corporation under Section 501(c)3. This newsletter and other dimensions of our voluntary carbon markets program are funded by a series of international development agencies, philanthropic foundations, and private sector organizations. For more information on donating to Ecosystem Marketplace, please contact info@nullecosystemmarketplace.com.



Additional resources