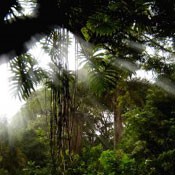 Brazil makes strides by launching a new and improved satellite system for deforestation-related emissions measurements, and the first Latin American forest carbon offset project verified under the American Carbon Registry. Ghana and Ecuador also inch toward improvements as Ghana potentially sees REDD+ funds stream from Norway and Ecuador kicks off its UN-REDD National Programme.    
This article was originally published in the Forest Carbon newsletter. Click here to view the original.
4 September 2012 | In this issue, our global forest carbon market tracking plants us first in Ecuador, which recently kicked off its  UN-REDD National Programme  during the country's inception workshop in the province of Sucumbios – engaging various stakeholders including provincial and local government officials, national and international NGOs, community members and indigenous groups. Meanwhile,  multilateral groups in Indonesia  and offsite researchers studying  projects based in Brazil, Cameroon and Tanzania  stress participation of local communities and indigenous groups in the REDD+ process.
In REDD+ financing,  Ghana may be getting financial support  from the Embassy of Switzerland in the area of $4 million, while the first glance at Forest Trend's  Expenditure Tracking Project  progress offers some explanations for regions' potential gaps in funds reporting. The European Forest Institute's EU REDD Facility also aims to shed some light on overall REDD knowledge and recent updates through their  newly launched website.  
Brazil made strides in its emissions reduction efforts by launching a  new satellite system  that provides a more accurate measurement of deforestation-related emissions. It also saw its  Boa Vista afforestation/reforestation carbon offset project  become the first Latin American forest carbon project verified under the American Carbon Registry. The country's land reforms reportedly have also had a positive impact on the establishment of logging arrangements while land tenure reforms in other countries, such as Bolivia, have led to more  barriers to community participation  in REDD+. Brazil's fruits, or rather its nuts, have benefited other countries as well, such as Peru, as a component of  multiple-use management of non-timber forest products.
Trees are also multitasking in France and Costa Rica. An organic experimental farm in northern France claims to be the  most ambitious agroforestry project  in the region, benefiting from both environmental and economic benefits of having trees in its farm. Meanwhile, Costa Rica is finding "living" fences, formed from trimmed branches of rooted posts, to have greater economic and environmental benefits than "dead", or manufactured fences.  
These and other stories from the forest carbon marketplace are summarized below, so keep reading! And if you value what you read in this news brief, consider supporting Ecosystem Marketplace's Carbon Program as a Supporting Subscriber. Readers' contributions help us keep the lights on and continue to deliver forest carbon market news and insights to your inbox biweekly and free of charge.
For a suggested $150/year donation, you or your company can be listed as a Forest Carbon News Supporting Subscriber (with weblink) for one year (~24 issues).
Reach out to inboxes worldwide and make your contribution  here  (select "Support for Forest Carbon News Brief" in the drop-down menu). You will receive an email from the Forest Carbon News team confirming your sponsorship listing and weblink information.  
—The Ecosystem Marketplace Team
If you have comments or would like to submit news stories, write to us at general@nullforestcarbonportal.com.
 

ABOUT THE FOREST CARBON PORTAL

The Forest Carbon Portal provides relevant daily news, a bi-weekly news brief, feature articles, a calendar of events, a searchable member directory, a jobs board, a library of tools and resources. The Portal also includes the Forest Carbon Project Inventory, an international database of projects including those in the pipeline. Projects are described with consistent 'nutrition labels' and allow viewers to contact project developers.

 

ABOUT THE ECOSYSTEM MARKETPLACE

Ecosystem Marketplace is a project of Forest Trends, a tax-exempt corporation under Section 501(c)3. This newsletter and other dimensions of our voluntary carbon markets program are funded by a series of international development agencies, philanthropic foundations, and private sector organizations. For more information on donating to Ecosystem Marketplace, please contact info@nullecosystemmarketplace.com.
Please see our Reprint Guidelines for details on republishing our articles.
Additional resources