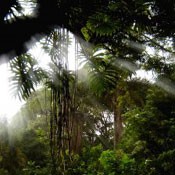 Ecosystem Marketplace's annual State of the Forest Carbon Markets report is due out November 6 and with it the latest findings on forest carbon projects' structure, standards and finance. Focus points include the changing dynamics of forest finance and global market activity. Join Ecosystem Marketplace in London for a presentation on these findings. RSVP today!
This article was originally published in the Forest Carbon newsletter. Click here to read the original.
25 October 2013 | Forest Trends' Ecosystem Marketplace will unveil its most recent State of the Forest Carbon Markets report on November 6, 2013. The report, which details our latest findings on the state of forest carbon projects' structure, standards, and finance, will be freely available on both the Ecosystem Marketplace and Forest Carbon Portal websites on and after this date.  
In 2012, the State of the Forest Carbon Markets report was Ecosystem Marketplace's most widely-accessed research product. This year's edition explores topics ranging from global market activity; to the time-cost of the project cycle; to the changing dynamics of forest finance. Supported by more data points and representing projects in more locations than ever before, we're confident that our 2013 report will inform a broad range of policy, practitioner and investment discussions.
 
Join us to learn about the results first-hand at our London launch event! Hosted by Ecoinvest Services/Bunge Environmental Markets, we will host a panel of experts to present and discuss report findings from 4:30-6pm, followed by cocktails. RSVP here to reserve a space – and act fast, space is limited to 50 seats!
When: 4:30-6pm
Where: Bunge Environmental Markets/Ecoinvest
3 More London Riverside SE1 2AQ
London, United Kingdom
RSVP: By COB November 4, 2013
Ecosystem Marketplace wishes to thank our 2013 report Premium Sponsors: Face the Future, the World Bank BioCarbon Fund and The Program on Forests (PROFOR); and sponsors Althelia Ecosphere and New Forests; all of which enable Ecosystem Marketplace to explore developments on the frontier of ecosystem service finance.
Valorando Naturaleza Webinar
Valorando Naturaleza, sister site to Ecosystem Marketplace, will present the second webinar in its report launch series,Considering Compensations in Latin America: Carbon Management, Communities And Corporate Responsibility on Friday Oct 25th at 12pm EST. The event brings together private sector speakers from Brazil – Keyvan Macedo of Natura, Chile – Carlos Berner of the Santiago Climate Exchange and Valentina Lira of Concha y Toro Winery – and Costa Rica – Sylvia Chaves of Florex – to discuss how forest carbon offsets fit into their strategies and what their experience has been engaging in such deals. The webinar will be conducted in Spanish.
To register, click here.
From the Editors
Forest Trend's REDDX website launched earlier this year to track the more than $7.3 billion pledged to support REDD+ readiness in developing countries. Information transparency around the financing of REDD+ activities remains murky, but by tracking disbursements with local in-country civil society groups, REDDX seeks to follow the money through the entire supply chain.
REDDX is working to disseminate information about 14 countries, with Colombia, Liberia and Tanzania now joining the four other countries whose REDD+ information was already available online. In addition, the data for Ecuador and Vietnam was recently updated.
Colombia's REDD+ financing shows that donor government agencies, particularly USAID, are the primary contributors. USAID has committed 70% of the total funding flowing to Colombia, the majority of which goes to U.S.-based consultancy firm Chemonics International. Overall, a total of $44 million has been committed, with $25 million of that disbursed.
Similar to Colombia, donor governments account for 95% of all REDD+ finance flowing to Tanzania. Unlike the former, most of that money then goes to other donor government agencies. In general, donor governments are not recipients of international REDD+ finance. However in some instances, specific donor government agencies receive funds from another agency within their own government. In this case, the Government of Norway is directing 95% of REDD+ finance commitments through the Royal Norwegian Embassy in Tanzania.
Liberia has a more diverse set of funding: a majority of the money stems from multilateral institutions but donor government agencies and private foundations also supply a fair amount. The money is also split among recipients: the Government of Liberia receives a bit more than international and Liberian NGOs/academia. Liberia currently receives about $9.5 million for REDD, with $5 million of that disbursed.
These and other stories from the forest carbon marketplace are summarized below, so keep reading!
—The Ecosystem Marketplace Team
If you have comments or would like to submit news stories, write to us at general@nullforestcarbonportal.com.
Forest Trends' Fundraising Challenge

Forest Trends' work doesn't grow on trees – we rely on readers' generosity to help keep them standing.

Now through November 22, (and for the cost of a typical lunch!), donations to Forest Trends' Crowdrise campaign could leverage up to $1 million in matching awards through the Skoll Foundation's Social Entrepreneurship Challenge. Help Forest Trends expand our vital services to communities and experts on the front lines of ecosystem conservation. $10 will go a long way!
ABOUT THE FOREST CARBON PORTAL

The Forest Carbon Portal provides relevant daily news, a bi-weekly news brief, feature articles, a calendar of events, a searchable member directory, a jobs board, a library of tools and resources. The Portal also includes the Forest Carbon Project Inventory, an international database of projects including those in the pipeline. Projects are described with consistent 'nutrition labels' and allow viewers to contact project developers.

ABOUT THE ECOSYSTEM MARKETPLACE

Ecosystem Marketplace is a project of Forest Trends, a tax-exempt corporation under Section 501(c)3. This newsletter and other dimensions of our voluntary carbon markets program are funded by a series of international development agencies, philanthropic foundations, and private sector organizations. For more information on donating to Ecosystem Marketplace, please contact info@nullecosystemmarketplace.com.
Additional resources