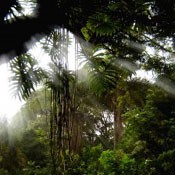 On Thursday, Maneuvering the Mosaic, this year's State of the Voluntary Carbon Markets report will launch at CARBON EXPO in Barcelona, Spain. Additionally, Ecosystem Marketplace will host a side event exploring emerging market tools for social responsibility beyond carbon. The North American report launch event will be held in Washington, D.C. on June 20th.
This article was originally published in the Forest Carbon newsletter. Click here to read the original.
29 May 2013 | Forest Trends' Ecosystem Marketplace invites you to take part as we launch our findings at two events celebrating the release of Maneuvering the Mosaic, our  2013 State of the Voluntary Carbon Markets report. This year's launch event  in Barcelona will be hosted by  Forest Carbon Group  and the  International Carbon Reduction and Offset Alliance  (ICROA) at  CARBON EXPO 2013  – an event we expect will attract players from all corners of the voluntary carbon markets.

CARBON EXPO 2013
Report Presentation and Panel Discussion
Thursday, May 30, 2013; 10:30-11:30
Room 11, Floor 2, Fira Barcelona venue
With panelists representing:  Ecosystem Marketplace,  Forest Carbon Group,  ClimateCare, the  Global Alliance for Clean Cookstoves,  ICROA, and the  Santiago Climate Exchange
Ecosystem Marketplace will also be hosting another  side event  exploring emerging market tools for social responsibility beyond carbon later that same day from 1-2pm,  again in Room 11, with panelists representing the Climate, Community, & Biodiversity Alliance, the Gold Standard, the Higher Ground Foundation, C-Quest Capital, and the Santiago Climate Exchange.
For those of you in the US, we invite you to join us for the North American launch of the State of  report, hosted by Baker & McKenzie at their  Washington, DC offices  in mid-June, exact date TBD. To stay in the loop, email  tclayton@nullecosystemmarketplace.com. Please provide contact information including full name, company, title, address, and telephone number. If you would like to bring a guest, please also include their details.
Attend either event to find the answers to questions like, "How did voluntary demand for offsets compare to regulated demand in the markets' toughest year yet? What were the defining features and motivations of the biggest voluntary buyers? How did the most 'charismatic' projects fare in 2012 – compared to the markets' more traditional technologies?"
Our 2013 report builds on a record data collection from an unprecedented number of offset suppliers worldwide to provide insights that will once again become an industry benchmark. We hope you will be able to join Ecosystem Marketplace for an in-depth look at our findings.
—The Ecosystem Marketplace Team
If you have comments or would like to submit news stories, write to us at general@nullforestcarbonportal.com.
 

ABOUT THE FOREST CARBON PORTAL

The Forest Carbon Portal provides relevant daily news, a bi-weekly news brief, feature articles, a calendar of events, a searchable member directory, a jobs board, a library of tools and resources. The Portal also includes the Forest Carbon Project Inventory, an international database of projects including those in the pipeline. Projects are described with consistent 'nutrition labels' and allow viewers to contact project developers.

 

ABOUT THE ECOSYSTEM MARKETPLACE

Ecosystem Marketplace is a project of Forest Trends, a tax-exempt corporation under Section 501(c)3. This newsletter and other dimensions of our voluntary carbon markets program are funded by a series of international development agencies, philanthropic foundations, and private sector organizations. For more information on donating to Ecosystem Marketplace, please contact info@nullecosystemmarketplace.com.



Additional resources