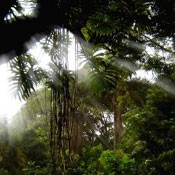 Stanford, UCLA, and UC Davis are hosting workshops with the REDD+ Offset Working Group on recommendations to accept REDD+ credits into California's cap-and-trade system. Further south, the University of California San Diego is launching a program in terrestrial carbon accounting to help scale up the human capital needed to support REDD+ in forest carbon measurements.
This article was originally published in the Forest Carbon newsletter. Click here to read the original.
4 March 2013 | Tracking terrestrial carbon is the name of the game for this news brief series – and Ecosystem Marketplace is in the midst of doing just that as we continue to survey project developers to inform the 2013 State of the Forest Carbon Markets report. If you have not already responded and would like to (and be recognized as a featured project and by company name and web link at the bottom of a news brief intro) contact  Daphne Yin  in our Carbon Program to find out if there's still time!  
On to the news! According to  preliminary findings  from Forest Trends' REDD+ Expenditures Tracking initiative (REDD X), very little of existing REDD+ commitments pledged by funds, private investors, private foundations, and others – mostly earmarked for REDD+ readiness efforts – has touched the ground, let alone made significant impact in mobilizing long-term private sector investment or realizing emissions reductions in the forestry and land use sector.
With this in mind, Michael Jenkins of Ecosystem Marketplace parent organization Forest Trends asks, "How do we improve REDD+ finance, both in terms of scale and efficiency?"
In his latest editorial, Jenkins stresses the need for a bi- or multi-lateral institution to serve as a central buyer for forestry and land-use carbon credits (much like the World Bank Forest Carbon Partnership Facility's Carbon Fund is set up to do) and develop new contract and project/jurisdictional finance structures that can scale up payments based on performance. This is particularly crucial in the short to medium term prior to REDD+ gaining credence in compliance markets.
Read more  on what can be done to scale up REDD+ investments from Michael,  and stay tuned for our online launch of REDD X later this month!
Turning our newsletter lens to California, we find the REDD Offsets Working Group (ROW) hard at work fielding feedback from its first workshop and public comments for the draft recommendations it recently released on including REDD+ credits into California's cap-and-trade scheme. An Ecosystem Marketplace article unpacks the domestic and international importance that state endorsement carries, with insights from the ROW's technical experts.
One of the main goals of the ROW's recommendations is "for the California model to be adopted by other cap and trade programs or pay-for-performance strategies, hopefully helping partner jurisdictions become compatible with other systems," according to ROW member Dan Nepstad, the Amazon Environmental Research Institute's International Program Director.
California could set a strong precedent for other GHG compliance programs if it decides to allow REDD+ credits into its program. Until or unless other systems provide demand signals, however, the supply of REDD+ credits from partner jurisdictions significantly outweighs prospective demand from California.
With this in mind, the ROW's recommendations encourage partner jurisdictions to issue credits themselves or register reductions with "third-party programs where a single 'currency' could potentially serve a variety of voluntary and regulatory markets," as the State of Acre has done already. Where jurisdictions remain unable to tap into carbon finance, they need to continue securing financing for own efforts from national, multilateral and bilateral sources.
Keep reading below for these and more forest carbon market news items, hot off the presses. And a special thanks to those organizations that have already contributed complete responses to our 2013 State of the Forest Carbon Markets survey, including: Agrigeorgia, Anthrotect, Appalachian Mountain Club, Australian Carbon Traders, Bio Assets Ativos Ambientais, BioCarbon Partners, Biofilica, Brinkman & Associates Reforestation, Carbonfund.org Foundation, Carbon Partnership, Carbon Project Solutions, Carbosur, Clean Air Action Corp, Climate Action Reserve, C-O2 Consultants, Conservation International, ECOTRUST, Emergent Ventures, Forest Carbon Offsets LLC, Forest Finance Service GmbH, GET Carbon, GFA Consulting Group, Green Resources, Greenwood Trading AG, Hib & Co International Togo,  IFS Growth,  Initiative Développement, Iowa Farm Bureau,  Mikro-Tek,  The Nature Conservancy, Pacific Forest Alliance, Plan Vivo Foundation,  PrimaKlima -weltweit- eV, Pronatura Mexico AC, Socio-eCO2nomix-Global, Strategic HSE Systems,  Terraprima,  The Trust for Public Land, World Land Trust, and Yorkshire Dales Millennium Trust. And the list keeps growing! Tune in to our next edition to see who else supported our survey (and played a part in the 2012 marketplace!).
We are still 12 donors away (at the $3K level) from publishing our flagship report again in 2013! To financially support our report, please contact Molly Peters-Stanley, Carbon Program Manager, at mpeters-stanley@nullecosystemmarketplace.com.
—The Ecosystem Marketplace Team
If you have comments or would like to submit news stories, write to us at general@nullforestcarbonportal.com.