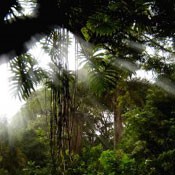 Latin America's largest cosmetics company recently purchased 120,000 tons of carbon offsets from a REDD project in Brazil's Amazon rainforest that is led by an indigenous tribe. This transaction marks the first sale of forest carbon offsets developed by indigenous people and can be used as a template for other indigenous peoples as well as companies looking to meet their Corporate Social Responsibility requirements.
This article was originally published in the Forest Carbon newsletter. Click here to read the original.
11 September 2013 | Brazilian cosmetics giant Natura Cosméticos has  become the first buyer of carbon offsets produced from a project led by the Paiter-Suruí­, an indigenous people who generated the credits by saving endangered rainforest under the Verified Carbon Standard's (VCS) Reduced Emissions from Deforestation and Forest Degradation (REDD) methodology.  
"REDD+ is a bridge between the indigenous world and the non-indigenous world, so it's an appropriate way to begin this process," says Chief Almir Narayamoga Surui, who spearheaded the effort. "It creates a vehicle through which the capitalist system can recognize the value of standing forests, and indigenous people can be rewarded for preserving them."  
Natura, Latin America's largest cosmetics maker, purchased 120,000 tons of carbon offsets from the project as part of its efforts to reduce its greenhouse gas (GHG) emissions by one-third from 2006 levels by the end of 2013.
Five years in the works, the transaction required the development of a REDD template that can now be used by other indigenous people across the Amazon, as well as companies looking to meet their Corporate Social Responsibility requirements.  
Meanwhile, if the staff at the California Air Resources Board (ARB) gets its way, the board  will sign off on a proposal for California's cap-and-trade program  to shift the invalidation risk for forestry projects away from forest owners to the buyers of offset credits from approved forestry projects.  
The so-called buyers' liability provisions featured in the cap-and-trade regulations allow the regulators to invalidate credits that are found to be faulty or fraudulent and require regulated entities to surrender replacement offsets. Currently, forest owners are responsible for the invalidation risk, but the buyers bear the risk for the other project types eligible for the California program.  
The regulators are aiming for consistency in the buyers' liability provisions, seen as a noble goal and one that could propel additional development of forest projects, according to some stakeholders. However, oil major Chevron pushed back against the forestry proposal in comments submitted to the regulators in early August.  
"ARB's existing rule places responsibility with forestry owners because forests are a unique type of offset," says Lloyd Avram, Chevron's manager of state government affairs. "The forest owner has control over the forest and can manage it in accordance with the requirements or choose not to do so."
"We are concerned that by changing the invalidation risk to the covered entity that uses the offset, ARB is adding unworkable burden and risk to forestry offset buyers which will ultimately discourage use of this important resource to reduce GHGs under ARB's cap-and-trade program," he says in the comments.
These and other stories from the forest carbon marketplace are summarized below, so keep reading!  
With the redesign of our  Forest Carbon Portal  and continued expansion of our  Spanish language sister website Valorando Naturaleza, Ecosystem Marketplace hopes to continue to bring you this kind of fresh information in the second half of 2013! If you value what you read, consider supporting Ecosystem Marketplace's Carbon Program by contacting  Molly Peters-Stanley. We're $50k away from being able to publish this year's State of the Forest Carbon Markets report in a few months' time – can we count on your support?
Here at Ecosystem Marketplace, we are transitioning from data collection to report-writing mode in order to bring you this year's State of the Forest Carbon Markets report. For those of you developing forest carbon offset projects, if you have not yet responded with data and wish to participate in the survey, please notify  Daphne Yin.
—The Ecosystem Marketplace Team
If you have comments or would like to submit news stories, write to us at general@nullforestcarbonportal.com.
 

ABOUT THE FOREST CARBON PORTAL

The Forest Carbon Portal provides relevant daily news, a bi-weekly news brief, feature articles, a calendar of events, a searchable member directory, a jobs board, a library of tools and resources. The Portal also includes the Forest Carbon Project Inventory, an international database of projects including those in the pipeline. Projects are described with consistent 'nutrition labels' and allow viewers to contact project developers.

 

ABOUT THE ECOSYSTEM MARKETPLACE

Ecosystem Marketplace is a project of Forest Trends, a tax-exempt corporation under Section 501(c)3. This newsletter and other dimensions of our voluntary carbon markets program are funded by a series of international development agencies, philanthropic foundations, and private sector organizations. For more information on donating to Ecosystem Marketplace, please contact info@nullecosystemmarketplace.com.



Additional resources