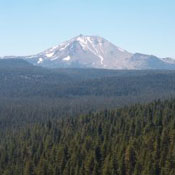 The Ecosystem Marketplace investigates PG&E's groundbreaking program to help its customers become climate neutral. Ask the average Joe on the street to rattle off a few environmental leaders, and he's sure to come up with a few likely suspects: the Sierra Club, the Center for Clean Air Policy, Julia Butterfly Hill. One organization he may be less likely to mention is Pacific Gas & Electric (PG&E). Yet in the eyes of many people, PG&E is becoming synonymous with environmental leadership and innovation. PG&E, one of the nation's largest investor-owned utilities and a provider of electric and natural gas service to over 5 million customers throughout California, is emerging as a key player on the environmental stage. The Keystone Center, a non-profit focused on developing solutions to pressing environmental, energy, and public health challenges, recently awarded its Keystone Center Leadership in Industry Award to PG&E Corporation. Among PG&E's accomplishments recognized by the center were its "leadership in developing initiatives in energy efficiency, renewable energy, and global climate change." This award is just the latest in a long list: PG&E has received more than a dozen environmental awards since 1999, including the US EPA Climate Protection Award in 2003. Up to now, much of this recognition may have flown under the radar of the aforementioned average Joe. However, that is poised to change as PG&E prepares to launch an ambitious new program aimed at helping its customers minimize their footprint on the environment.
Something Worth Doing
In January 2006, PG&E announced a groundbreaking program that would help its customers become "climate neutral." This program—the Climate Protection Tariff (CPT) program—would collect small premiums from enrolled customers, and then invest the funds collected in carbon offset projects. The resulting greenhouse gas (GHG) reductions would negate the customers' emissions, thereby rendering them climate neutral. "It is an interesting program. We think it's the first of its kind anywhere, in the United States anyway," says Wendy Pulling, Director of Environmental Policy at PG&E. She continues, "We'll give you your footprint, and we'll offer you the value proposition of being climate neutral." The CPT program is straightforward. Interested customers can voluntarily enroll in the program. After enrolling, they will be charged a tariff on their monthly electricity and natural gas usage. This tariff—$0.00254 per kilowatt-hour for electricity and $0.0653 per therm of natural gas—would result in an increase of approximately 3% (or $4.31) for the average residential customer per month. PG&E is making two promises to enrolled customers: 100% of their tariff payments will go towards GHG reduction projects; and the GHG reductions purchased will neutralize their electricity and natural gas consumption. PG&E is proposing a three-year demonstration period—2007 through 2009—for the program. Structuring it as a demonstration gives PG&E the flexibility to expand or change the program as necessary, and also recognizes the changing nature of the climate change policy environment. "This is a pilot program," says Pulling, "We're not going into this assuming that we know everything…A lot of folks are learning an awful lot [about combating climate change], and…one of the goals of this program is to create a forum in which more learning can take place." Based on a survey of various green power programs across the country, and some preliminary market research with PG&E customers, PG&E hopes to enroll 4-5% of its customers in the CPT program over the course of the demonstration period. "That number, 4-5%, is our goal. We think it's an ambitious but doable target to have. We really wanted to set ourselves an ambitious target, because putting the effort into this, and trying to maximize the opportunity to learn and make a difference here, we didn't think that 1% enrolling… was really worth doing, and we wanted to make this something really worth doing," says Pulling.
Offset It
If PG&E meets its goal of enrolling 4-5% of its customers, the company expects to receive approximately $20 million in Climate Protection funds over the course of the three-year demonstration period. One of the promises PG&E makes to enrolled customers is that 100% of the tariff will be put towards GHG reduction projects. In other words, all $20 million will go towards carbon offsets. PG&E's goal is to remove at least 2 million tons of carbon dioxide from the atmosphere, a number equivalent to removing 350,000 cars from California's roads for one year. The California Climate Action Registry, a non-profit voluntary registry for GHG emissions, is working with PG&E on the CPT program. All GHG reduction projects funded by the CPT must meet the standards set by the Registry. Initially, the CPT program will focus on forest sequestration projects, as these are the only types of projects for which the Registry has final reporting protocols. However, as the Registry continues to finalize reporting protocols for other types of GHG reduction projects, the CPT will expand its scope. "We do want to have a diverse portfolio of reductions that we purchase for our customers," says Pulling, "And that's why we're hoping that within the three year lifespan of this pilot project that we'll be able to find protocols outside of the forest sector that are rigorous and that have good protections built in that we can use in other sectors." Projects will be selected through a competitive request-for-proposal process and will be evaluated on a number of criteria, including: GHG reduction potential; ability to conform to the Registry's reporting protocol; cost-effectiveness; longevity; regulatory additionality; and "co-benefits" to California's environment. To help with the proposal process, PG&E will form an External Advisory Group that will include representatives ranging from residential customers to business customers, from environmental justice organizations to state environmental regulatory agencies. PG&E will work with this group to make sure that the selection process stays both on track and true to the spirit of the initial request-for-proposal. To cover the costs of the program, PG&E is proposing raising rates on all PG&E customers. PG&E is anticipating the total costs of the program to be approximately $16.4 million over the four year life of the program (a preparation year in 2006 and then the three year program). The rate increases proposed are minor: 1 cent per month on an average electricity bill and 3 cents per month on an average gas bill. Having all customers contribute towards the cost of the program recognizes reducing GHG emissions benefits all customers, not just those who choose to enroll in the CPT program.
Outside Opinion
Generally, the CPT program has been well received by environmentalists and others outside of PG&E. The main critiques focus on the reliance on forest sequestration projects and the high estimated cost per ton of carbon. There is a growing controversy around forest sequestration projects. Questions have started to emerge about whether the reductions gained from these projects are really robust enough for carbon trading and as to whether the reductions achieved are actually permanent. "In general, we don't understand the terrestrial carbon cycle well enough to say with as much confidence exactly how much carbon will be sequestered and for how long and with what reliability, versus projects in the energy or industrial sectors where these issues can be addressed with clarity," says Alex Rau of Climate Wedge Ltd., an investment fund focused on the voluntary carbon market. While PG&E recognizes that questions have been raised about forestry projects, it is confident in the rigorous protocols developed by the Registry—protocols that have built-in tools to address some of the risks and concerns that have been raised about foresty projects. "There is a big difference between the generic forest sequestration projects that may be going on around the world and what we're proposing here," says Pulling. The second concern—the high cost per ton of carbon—is directly related to the first. PG&E is estimating a cost of approximately $10 per ton of carbon. This is significantly higher than some other offset programs in the US, such as the Climate Trust in Oregon. However, part of what drives the cost of offsets is the nature of the project, and limiting the scope of potential projects to in-state forestry projects may be driving up the cost unnecessarily. "If you look at the prices they're anticipating paying for carbon, you can source cheaper reductions outside of California," says an anonymous market source, "If ultimately the cost is cheaper to consumers, shouldn't that be the ultimate concern?" However, while it may be possible for PG&E to find cheaper offsets, the general sense is that the numbers are accurate given the nature of the projects PG&E is intending to fund. "For treeplanting, it [the cost per ton of carbon] is probably reasonable," says John Bailey of the Institute for Local Self Reliance. There are several things driving PG&E's decision to limit the initial scope of the program to in-state forestry projects. First (and perhaps foremost), the Registry's forest protocols require that projects be in California. Thus, if PG&E wants to use these protocols, it must fund in-state projects. Secondly, PG&E recognizes the importance not just of the global benefits of reducing GHG emissions, but also the potential co-benefits, such as improved forests. "We think it makes sense to do these reduction projects in California because we're a California company, our customers are here in California, and we want to help make a difference close to home," says Pulling. Ultimately, "[y]ou get what you pay for," says Pulling, "The number we've got is a very reasonable number when you're talking about purchasing the highest quality reductions you can find on behalf of your customers." Overall, despite the questions raised about various aspects of the program's design, most people think that it is a good program. "[O]verall, we're really pleased to see this program move forward," says Rau. Currently in the midst of the approval process with the California Public Utilities Commission (CPUC), Pulling says, "We're hopeful that the PUC will take final action on this in late November or early December, which would keep us on track for being able to launch the program in the first quarter of 2007." Clearly, PG&E has laid the groundwork well for its forthcoming program. Ultimately, however, the success of the company's efforts will be determined by the Average Joes and Janes of California. But here, too, Pulling says the company has done its homework: "Happily, we found that our customers would be interested." Charis Anderson is a freelance writer based in San Francisco, California. First published: June 26, 2006 Please see our Reprint Guidelines for details on republishing our articles.